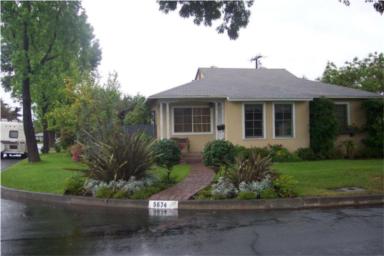 | | | | | |
| --- | --- | --- | --- | --- |
| Asking Price | $749,800 | ::: | Sq-ft | 1,714 |
| Purchased Price | $245,000 | ::: | Lot Size | 6,790 |
| Purchased Date | 09/15/2000 | ::: | Beds | 3 |
| Days on Redfin | 41 | ::: | Baths | 3 |
| $/Sq-ft | $437 | ::: | Year Built | 1950 |
| 20% Downpayment | $149,960 | ::: | Area | Near El Monte |
| Income Required | $187,450/yr | ::: | Type | SFR |
| Est. Payment* | $3,791/month | ::: | MLS# | H08030314 |
*Estimated monthly payment assume 20% down, 30-yr fixed @ 6.50%
It never ceases to amaze me how greedy people can become when they have their eyes and heart fixated on a certain price point. No one told this dreamer that the real estate boom is over and they can no longer expect buyers to put up with ridiculous, unjustified prices. I don't know what these sellers expect out of this because they sure aren't getting anyone to bite. Three-quarters a million dollars for this dump!
Purchase Price $245,000
Purchase Date 09/15/00
Loan $171,500
Downpayment $73,500
After holding the property for almost 8 years, these people aren't flippers. As a matter of fact, they put 30% down when they purchased the property so they are vested in the property. However, greed must have gotten the best of them because after 8 years they've listed the house for over triple their original purchase price. Triple!!
This isn't in the best of areas since it borders north El Monte so location is not a factor. They supposedly remodeled the kitchen, but they probably did a bad job or used cheap materials because even a realtor with half a brain is smart enough to take pictures of a renovated kitchen. There's nothing in this listing that tells me I should pay more than 3X what they current sellers paid less than 8 years ago.
At 3, 4 and 5% annual appreciation/inflation, this house would be worth…
3% $310,158
4% $335,299
5% $361,976
Instead of the mid-$300k, it's listed at $749,800! If this doesn't scream greed, I don't know what does. This listing is downright insulting to buyers. Even someone not following the market as closely as some of you would agree that it's insanely overpriced. What an outrage!