300 N. Altura Rd.
Arcadia, CA 91007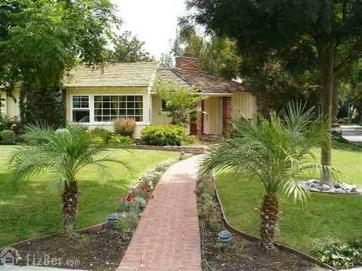 | | | | | |
| --- | --- | --- | --- | --- |
| Asking Price | $1,399,000 | ::: | Sq-ft | 2,366 |
| Purchased Price | $1,399,000 | ::: | Lot Size | 13,680sf |
| Purchased Date | 10/16/2007 | ::: | Beds | 4 |
| Days on Redfin | 1 | ::: | Baths | 4 |
| $/Sq-ft | $591 | ::: | Year Built | 1951 |
| 20% Downpayment | $279,800 | ::: | Area | Peacock Village |
| Income Required | $349,750 | ::: | Type | SFR |
| Est. Payment* | $7,073/month | ::: | MLS# | 892063244 |
*Estimated monthly payment assume 20% down, 30-yr fixed @ 6.50%
This is a For Sale by Owner listing (FSBO). Seeing as how the listing price is exactly what the seller bought it for 8 months earlier, I'm not surprised. With agent commissions costing up to 6%, can you afford to lose $83,940 over 8 months?
The listing description is even more intersting:
ASSUMABLE LOAN AT 5.375%% INTEREST ONLY FOR 9.5 YEARS; $3050/MO!! Exquisite and spacious Lower Rancho family home is on a quiet, tree-lined street in one of …
As an added incentive, you can take over the seller's 10-year Interest Only mortgage. While I don't think this type of mortgage is necessarily bad, it's just a reflection of what buyers would do to "afford" a million dollar home.
This property is located in the Peacock Village community and despite the lack of photos, I'd be surprised if it wasn't a nice home. But is it worth $1,399,000? I pulled up comparable properties also located on Altura Rd.
500 N. Altura Rd.
2,670sf
15,978sf lot
Purchased in 1987 for $418,000
400 N. Altura Rd.
2,685sf
16,220sf lot
Purchased in 1987 for $350,000
Applying the standard appreciation table, we get the following:
$418,000 after 21 years:
3% $777,603
4% $952,525
5% $1,164,532
6% $1,421,017
$350,000 after 21 years:
3% $651,103
4% $797,568
5% $975,086
6% $1,189,847
Both of these homes are a bit bigger than our current property so if it was worth $350,000 in 1987, I would have to apply a 7% annual appreciation on it to break the $1,400,000 value.