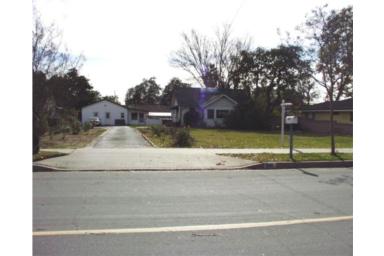 Directly from Redfin: "NOT A CORNER LOT. LOT SIZE 16082 SQ. FT. (86X187). THE HOUSE WAS DAMAGED BY A FIRE. ORIGINAL LOT SIZE WAS 91X187. THE OWNER WILL GRANT 5 FEET TO THE NEIGHBOR ON THE EAST IN AN EASEMENT OR A LOT ADJUSTMENT. PROPERTY SOLD FOR LAND VALUE ONLY. NO WARRANTY, IMPLIED OR EXPRESSED. NO TERMITE ON BOTH THE HOUSE AND THE GARAGE. PLEASE DO NOT ENTER THE HOUSE OR THE GARAGE."
| | | | | |
| --- | --- | --- | --- | --- |
| Asking Price | $899,900 | ::: | Sq-ft | 1264 |
| Purchased Price | $180,000 | ::: | Lot Size | 16,082 sq-ft |
| Purchased Date | 02/02/2000 | ::: | Beds | 3 |
| Days on Redfin | 26 | ::: | Baths | 1 |
| $/Sq-ft | $712 | ::: | Year Built | 1918 |
| 20% Downpayment | $179,980 | ::: | Area | Santa Anita |
| Annual Income Required | $224,975 | ::: | Type | SFR |
| Est. Payment* | $4550/month | ::: | MLS# | A08000266 |
*Estimated monthly payment assumes 20% down, 30yr fixed @ 6.50%
Why do so many realtards insist on writing their entire description in ALL CAPS? It's very difficult to read and I feel like they're screaming at me. What do they mean "OWNER WILL GRANT 5 FEET TO THE NEIGHBOR?" Five feet from where? Five feet along the entire east side of the house? Why would I want to do that? And who cares that there's "NO TERMITE ON BOTH THE HOUSE AND THE GARAGE" because it's a BBQ'd house anyways.
Since the house has fire damage and they're selling it for land value only, they're asking $899,900 for dirt. It's for 16,082 sqft of dirt, but all you get is dirt. Actually no, you get dirt plus a burnt down house that you'll have to pay to bulldoze before you can get a city permit to rebuild on the lot. Would you pay $899,900 for dirt when you can get a 2000 sqft house behind the lovely arboretum?
Don't give me that bull about building PUDs or condos on that big 16,082 sqft lot to sell for a profit. Even if the property is zoned for that kind of development, the RE market is too dead to turn any kind of profit for the next several years. This looks like yet another case of complete separation between the asking price and market conditions. I don't see a transaction at this price. How much would you pay for this property?