Despite all my years in Arcadia, I've never been to a race at the Santa Anita Race Track. I hear it's fun and quite exciting to cheer on your horse all the way to the finish line. The thrill of a race and potential to strike it rich on a lucky bet is more than enough to get your heart pumping. For those trying to sell their home right now, that's probably the same feeling they're experiencing except there's no more potential to make any money for years. With every lowball sales transaction that goes through, the comps in that neighborhood are pulled lower from the previous week and it's making the sellers very, very nervous.
I made the usual Sunday rounds and saw this race in a cluster of condos within a mile of each other. Traditionally, condos feel the pinch of the market before single family homes and it's the same this time around. Some of these homes are next to each other on the same street and some are even part of the same development complex.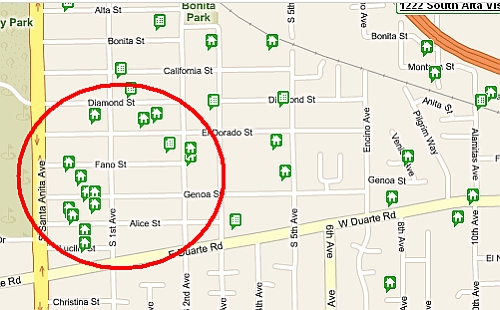 35 Lucille St. #A – $644k, 3bed/2.5ba, 1551 sqft, $415/sqft, 82 days
33 Alice St. #B – $718k, 3bed/2.5ba, 2084 sqft, $345/sqft, 180 days
40 Alice St. – $488k, 3bed/2.5ba, 1241 sqft, $394/sqft, 32 days
45 Alice St. #J – $478,888, 2bed/2.5ba, 1483 sqft, $323/sqft, 172 days
50 Genoa St. #A – $758k, 3bed/2.5ba, 1865 sqft, $406/sqft, 87 days
42 Genoa St. #B – $758k, 3bed, 2.5ba, 1886 sqft, $402/sqft, 67 days
41 Genoa St. #C – $686k, 3bed/2.25ba, 2144 sqft, $320/sqft, 16 days
28 Fano St. #A – $689k, 3bed/3.5ba, 2350 sqft, $293/sqft, 74 days
153 Fano St. #A – $469k, 3bed/2.5ba, 1240 sqft, $378/sqft, 131 days
598 2nd Ave. #A – $849,950, 3bed/3.5ba, 2297sqft, $370/sqft, 33 days
600 2nd Ave. #A – $799,950, 3bed/2.5ba, 2185sqft, $366/sqft, 33 days
139 El Dorado #A – $858k, 3bed/3.75ba, 2126sqft, $404/sqft, 35 days
141 El Dorado #A – $838k, 3bed/3.5ba, 2034sqft, $412/sqft, 35 days
I've listed 13 properties above – which one will buckle and succumb to market forces first? The new construction, vacant homes are most susceptible because their carrying costs are killing them. Their investors' money is going down the drain with each passing day and they do not have the luxury of holding out. Owner occupied units have more of an emotional factor compared to vacant ones and traditionally hold out longer before reducing prices.
This isn't a new phenomenon. We've seen it in the past and we'll see it again this time around. Owners do all that they can to keep the asking price as high as they think their house is worth regardless of what the current market is willing to pay for it. The naive action of lying to oneself continues until a comparable home in the neighborhood lowers the price to sell while their house is still sitting without an offer. Only then will the seller budge a little and lower the price to match the comps, except by that time, the comps have shifted even lower from recent sales as potential buyers expect even better deals.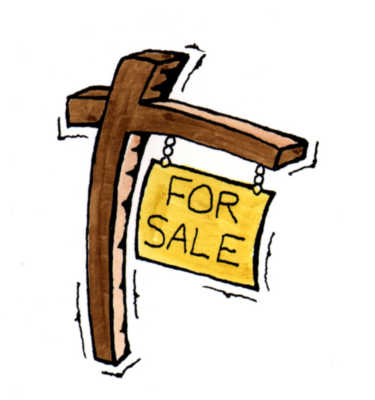 This cycle repeats as the seller chases down the market as his asking price is reduced bit by bit late in the game. If he had only priced it right in the first place, the knife catchers that bought his neighbor's house would have put an offer in on his place instead. Many make the mistake of listing their home at 2006 prices because they believe it's worth that much. Well here's news for them: it was worth that much when crazy people were willing and able to sign up for suicide mortgages. Lenders aren't giving away free money anymore and buyers are starting to realize that real estate doesn't always go up after all.
Remember, a house is only worth what buyers are willing to pay. With more and more listings flooding the market each day, the competition gets tougher. During the boom, buyers were racing to make offers in fear that they'll be priced out forever and in turn drove prices up way beyond fundamental, sustainable means. The market will experience a similar phenomenon as it will soon become a race to the finish with sellers trying to sell their property as fast as they can by lowering prices, offering incentives and pushing for short sales. Whether the banks will approve those short sales is another issue, but one thing is clear – the longer a seller waits to drop the asking price, the longer it will stay on the market. With so much inventory and so few qualified buyers, sellers have to face the reality that their home may not sell for a very long time.