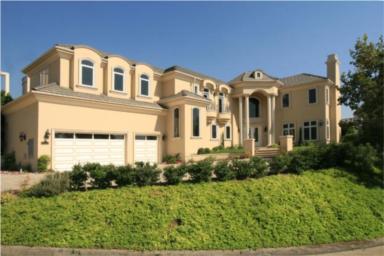 | | | | | |
| --- | --- | --- | --- | --- |
| Asking Price | $4,698,000 | ::: | Sq-ft | 8,616 |
| Purchased Price | – | ::: | Lot Size | 24,638 |
| Purchased Date | – | ::: | Beds | 6 |
| Days on Redfin | 27 (56 Zillow) | ::: | Baths | 9.25 |
| $/Sq-ft | $545 | ::: | Year Built | 2006 |
| 20% Downpayment | $939,600 | ::: | Area | Highlands |
| Income Required | $1,174,500/yr | ::: | Type | SFR |
| Est. Payment* | $23,753/month | ::: | MLS# | A08011954 |
*Estimated monthly payment assume 20% down, 30-yr fixed @ 6.50%
Torrey Pines – it's back.
I saw the other Torrey Pines monstrosity last year (386 Torrey Pines – the neighbor) and almost puked. According to Zillow, 386 Torrey Pines was on sale for almost a whole year before it found a sucker in September of 2007 who bought it for a whopping $4.25MM. And now, this seller wants to make a killing too – listing 388 Torrey Pines Dr. for a mere $4,698,000.
I can't seem to find any lender/loan and previous sale information for this property, but the mailing address is in Nevada so this may have been purchased as a flip by a specuvestor. I can't imagine someone buying property in Arcadia as vacation property, but who knows.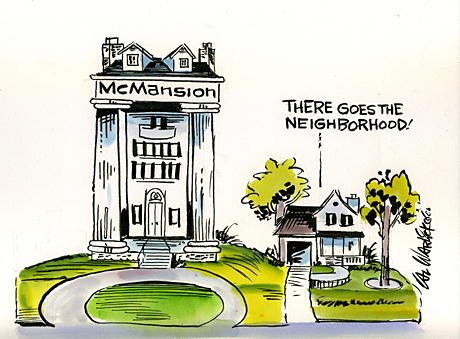 Over 8600 square feet of indoor space, 6 bedrooms, 9.25 bathrooms and more Pergraniteel than you'll ever want. I don't hide my disdain for gaudy mcmansions, but this is the mcmansion of mcmansions. The builder/architect had over half an acre of land and they still stuck the ugly 3 car garage in the front of the house. The outside of the house looks absolutely hideous and to think that the monthly carrying costs for this house is on the order of some people's annual salary is mind-boggling.
I profiled this house not only because it's the most expensive listing in Arcadia today, but because it captures the frenzy of this housing bubble in the SGV area. Specuvestor buys a property at inflated prices, tears it down to build a mcmansion, fill it with granite counters, pergo floors, designer colors, stainless steel and turn around to sell the flip at some insane wishing price to a knife-catcher. Yeah, that just above sums it up.
The neighbor got lucky and got out last September. Do you think this seller will be just as lucky?