Zip Codes: 91006, 91007

Current Market Listings as of March 1, 2008
Properties for Sale: 263 (+16)*
Median Listing Price: $779,000 (+0%)*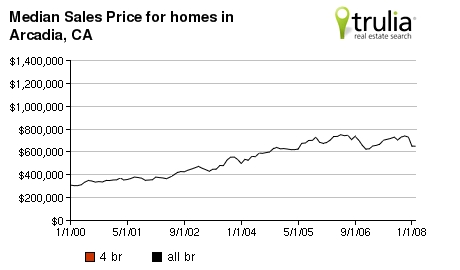 Weekly Foreclosure Update
Properties in Foreclosure: 14 (+3)*
Properties in Pre-Foreclosure:61 (-1)*
*+/- is compared to previous week's data.
January sales figures are in:
Number of homes sold: 32 (+3 from Dec. 2007)
Median sales price: $687,500 (-13% from Dec. 2007)
In one month we saw a $102,500 drop in the median sales price (-13%). With an estimated median household income of $64,200, the median home price of $687,500 is 10.7 times that number. As the Wall Street Journal reports, California home prices are still 40% overpriced and we have a long way to go before housing becomes affordable again.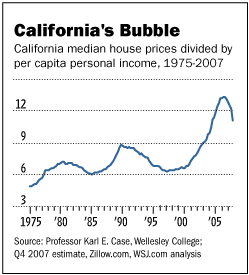 Graph provided by Yahoo/WSJ.
Just to get down to seven times incomes, prices would have to fall 37% tomorrow.
Property and foreclosure numbers obtained from U.S. Census, ZipRealty, Trulia, Yahoo Real Estate and Foreclosure.com. Market listings obtained from DataQuick News.