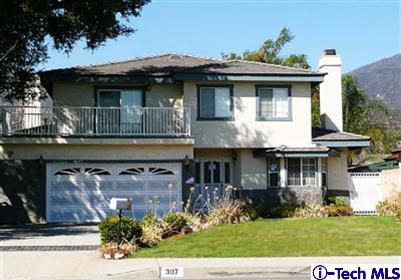 | | | | | |
| --- | --- | --- | --- | --- |
| Asking Price | $859,000 | ::: | Sq-ft | 3,243 |
| Purchased Price | $1,088,000 | ::: | Lot Size | 7,296 |
| Purchased Date | 11/14/2006 | ::: | Beds | 5 |
| Days on Redfin | 4 | ::: | Baths | 4 |
| $/Sq-ft | $265 | ::: | Year Built | 1991 |
| 20% Downpayment | $171,800 | ::: | Area | Near Monrovia |
| Income Required | $214,750/yr | ::: | Type | SFR |
| Est. Payment* | $4,343/month | ::: | MLS# | 22106998 |
*Estimated monthly payment assume 20% down, 30-yr fixed @ 6.50%
Today's profile is a prime example of how stupid lending practices create massive bubbles and thus massive losses. In this case, the bank takes the hit and the squatters get a dinged credit score. This was purchased in late 2006 with 100% financing for $1.088MM or $229,000 over its current asking price. Since this is a banked owned REO, the buyers probably stopped making payments 9 months to a year ago. They probably bought it as a flip, but saw the credit woes in the spring of 2007 and just decided to call it quits.
Purchase Price $1,088,000
Purchase Date 11/14/2006
1st Loan $850,000
2nd Loan $238,000
Downpayment $0
The second mortgage bagholder has suffered a 100% loss on this $238,000 loan. Can you see why the secondary mortgage industry is completely wiped out? How many of these 100% losses can a bank take before it goes under? When greed overpowers sound financial decisions, stupid ensues and people lose money.
This listing refers to the Highland area, but it's actually just north of the 210 freeway between 2nd and 4th street. It's actually borderline Monrovia. Being so close to the freeway, I would also imagine the noise to be quite loud during the silence of the night.
It is REOs like this that will inevitably pull the market down faster than you can spell foreclosure. With each bank-owned property that's listed at lower and lower asking prices, the surround comps are forced to follow suite until the wave of price reductions make its way across the southland and find an equilibrium. If we are still in the early stages of the correction and already seeing $265/sqft from the bank, what will prices be like when we finally hit bottom in a few years? $250/sqft? $225/sqft? $200/sqft? Under $200/sqft?