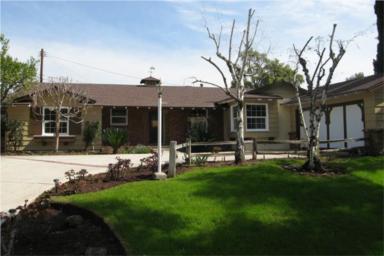 | | | | | |
| --- | --- | --- | --- | --- |
| Asking Price | $888,000 | ::: | Sq-ft | 1,751 |
| Purchased Price | — | ::: | Lot Size | 8,800 |
| Purchased Date | 1954 | ::: | Beds | 2bed+den |
| Days on Redfin | 7 | ::: | Baths | 2 |
| $/Sq-ft | $507 | ::: | Year Built | 1954 |
| 20% Downpayment | $177,600 | ::: | Area | Highland |
| Income Required | $222,000/yr | ::: | Type | SFR |
| Est. Payment* | $4,490/month | ::: | MLS# | A08034464 |
*Estimated monthly payment assume 20% down, 30-yr fixed @ 6.50%
During the heydays of the RE boom it was next to impossible to find something in the Highlands for under $1MM. Today we have a listing on the slopes of Santa Anita Avenue for $888k. It's an older property, but the interior has been redone with new flooring, windows and a brand new kitchen, but the owner decided to remodel only one of the two bathrooms. The professional landscaping is nicely done, but exterior improvements typically only get about half of the return on investment.
This is a nice house in a nice area, but there are some drawbacks. It's located on Santa Anita which is a high traffic street and therefore rendering the front yard practically useless. At first glance it seemed like a good deal, but at $507/sqft, it's anything but one. Yesterday we profiled a REO that's asking for $265/sqft. Granted this property is in a better area than that, it's currently priced at nearly double the $/sqft.
The owner sat on this property for 54 years and although they will still make money on the sale, they would have made much more if the property came on the market say 2 years ago. Houses similar to this were selling for $400-$500k back in the early 2000s. With all the bad news (or good news, depending on how you look at it) in the market lately, it's not completely unrealistic to see prices fall back to 2002 levels.