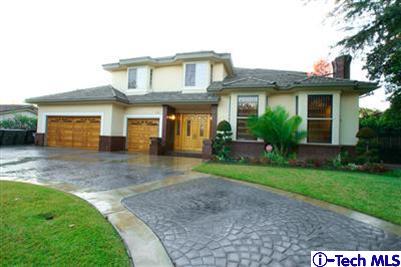 | | | | | |
| --- | --- | --- | --- | --- |
| Asking Price | $1,950,000 | ::: | Sq-ft | 5,279 |
| Purchased Price | $1,548,500 | ::: | Lot Size | 0.33 acres |
| Purchased Date | 07/21/2006 | ::: | Beds | 6 |
| Days on Redfin | 103 | ::: | Baths | 5.25 |
| $/Sq-ft | $369 | ::: | Year Built | 1989 |
| 20% Downpayment | $390,000 | ::: | Area | Peacock Village |
| Income Required | $487,500/yr | ::: | Type | SFR |
| Est. Payment* | $9,859/month | ::: | MLS# | 22102844 |
*Estimated monthly payment assume 20% down, 30-yr fixed @ 6.50%
Since I featured Peacock Village in yesterday's community profile, it's only fitting that we profile properties in that area this week. Today we have a modern home on the north side of Peacock Village asking for $1.95MM with no known price reductions despite being on the market for over 100 days.
Purchase Price $1,548,500
Purchase Date 7/21/2006
1st Loan $1,000,000
2nd Loan $238,400
Downpayment $310,000
This property was purchased less than 2 years ago and was re-listed for sale after just 17 months of ownership. Since the previous transaction took place in the heydays of 2006, it's probably safe to assume that the seller was able to get an option loan with a teaser rate payment. The once promising lure of making easy money by just buying a property and waiting a few months for it to appreciate has vanished.
What's striking to me is that these folks obviously know the housing market is tanking (hence the sale), but they fail to price it at market price. It's as if simply ignoring the news of 20% declines in LA county, rampant foreclosure and spiraling marking conditions would make buyers see past the ridiculous asking price. If they are somehow able to land a sale at the current price, they stand to make over $280k in just 20 months without doing a single thing. We might as well quit our day jobs and just sell houses to each other for profit if that were to happen. With this absurd mentality, it's no wonder the state of the market is where it's at now.
Unfortunately, I wasn't able to find a comparable rental in Arcadia with 6 bedrooms, but with 4 bedroom SFRs going for around $3200 rent per month, I doubt this house would rent for any more than $4-5k/month. That's about half of what it would cost to purchase it at its current asking price assuming 20% down on a 30-yr fixed mortgage. I'm curious to see how many more days the seller will sit on this asking price before lowering it.