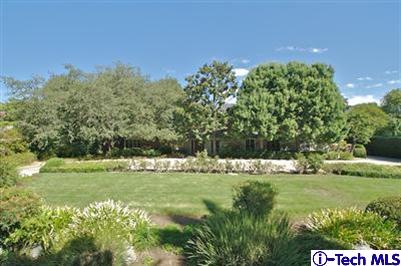 | | | | | |
| --- | --- | --- | --- | --- |
| Asking Price | $1,998,000 | ::: | Sq-ft | 3,754 |
| Purchased Price | $1,700,000 | ::: | Lot Size | 44,100 (1 acre) |
| Purchased Date | 07/26/2005 | ::: | Beds | 4 |
| Days on Redfin | 156 | ::: | Baths | 4.25 |
| $/Sq-ft | $532 | ::: | Year Built | 1956 |
| 20% Downpayment | $399,600 | ::: | Area | Santa Anita Oak |
| Income Required | $499,500/yr | ::: | Type | SFR |
| Est. Payment* | $10,102/month | ::: | MLS# | 22100417 |
*Estimated monthly payment assume 20% down, 30-yr fixed @ 6.50%
I had noted the large lots in this community in the profile on Monday and this property clearly exemplifies that feature with a full acre of land. Sure this is in an older neighborhood, but that's almost unheard of in Los Angeles. You can fit an entire cluster of those new detached condos on there.
Purchase Date 07/26/2005
Purchase Price $1,700,000
Loan Amount $1,190,000
Downpayment $510,000
This seller put half a million dollars of his own money into this house and thus the bank will not be taking part in the losses. I doubt this property will go below $1.19MM. The seller on the other hand may very well lose a significant part of the $510k downpayment. A price drop down to the Dec 2004 selling price would leave the seller with a 40% loss on their downpayment plus the carrying costs for the 32 months of ownership. OUCH.
Listing Price History
10/29/2007 $2,100,000
02/06/2008 $1,998,000
These folks tried to make $400,000 in 27 months; that's the equivalent of almost $15k per month. After being on the market for some time, the price has been reduced $102,000 or 4.9% of the original asking price. This sounds like a kool-aid concoction mixed with two shots of greed and served on denial. Don't get me wrong, it's a beautiful property, but do the sellers really think they'll find a knife-catcher at this price? Apparently they haven't found one yet after 5 months.
Since the original purchase was in 2005, they probably got a great rate on their loan. If it's adjustable, they may be facing steep resets and want out. Either way, they don't want to foot the bill for this estate anymore. Including property tax, maintenance and insurance, carrying costs could easily be over $10k/month.
Affordability aside, what would you be willing to pay for this property today?