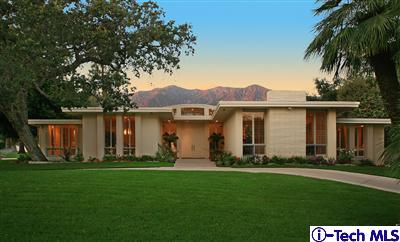 | | | | | |
| --- | --- | --- | --- | --- |
| Asking Price | $3,450,000 | ::: | Sq-ft | 4,711 |
| Purchased Price | $2,400,000??? | ::: | Lot Size | 0.89 acre |
| Purchased Date | 02/17/2006 | ::: | Beds | 4 |
| Days on Redfin | 146 | ::: | Baths | 5 |
| $/Sq-ft | $732 | ::: | Year Built | 1966 |
| 20% Downpayment | $690,000 | ::: | Area | Santa Anita Oak |
| Income Required | $862,500/yr | ::: | Type | SFR |
| Est. Payment* | $17,443/month | ::: | MLS# | 22101527 |
*Estimated monthly payment assume 20% down, 30-yr fixed @ 6.50%
I couldn't find a previous sales price for this house, but it showed a transaction on 2/17/2006. According to the property tax it paid in 2007, it's was probably purchased for around $2.4MM. Zillow currently has its "zestimate" for this property at $2.3MM.
As a comparison, it's neighbor 945 Singing Wood (3 doors down with 25,000 sqft more land and an extra bedroom) sold on 11/08/07 – again price not shown (what's going on with that?). Zillow shows a sale at $1.45MM seven years ago on 09/14/01 and has estimated values based on property taxes paid of $1.5MM, $1.57MM, $1.57MM and $1.60MM in 2004-2007. That's a lot of numbers; let's break this down.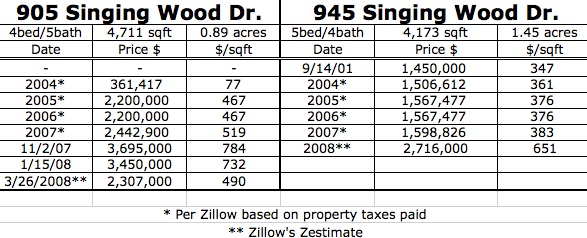 The current seller wants $732/sqft or $3.45MM for this property. That's down $265,000 from last November, but still insanely overpriced. This is a gorgeous property with an exceptional layout in an upscale community, but that doesn't justify the ridiculous price.
A 20% downpayment for this asking price is about the same as many people's entire home value. On top of that, I don't know of too many people who can afford the $20k+/month carrying cost. Surely this isn't just any normal home so it's not for the average joe or middle class family, but don't you think $3,450,000 is a little steep? We're not along the coastline or in Beverly Hills – this is suburbia.
Obviously it was marketed for the high end buyer since they went all out with the professional photography and staging. Aside from the sky-high asking price, it's a pretty good listing. Not that I can afford this now (or ever), but if I could I'd gladly pay up to $1.90MM for this beautiful house today. If it ever sells, I'll give an update on the actual sales price.