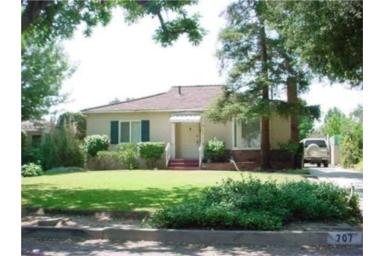 | | | | | |
| --- | --- | --- | --- | --- |
| Asking Price | $699,000 | ::: | Sq-ft | 1,513 |
| Purchased Price | $669,000 | ::: | Lot Size | 8,625 |
| Purchased Date | 02/28/2005 | ::: | Beds | 2 |
| Days on Redfin | 2 | ::: | Baths | 1.75 |
| $/Sq-ft | $462 | ::: | Year Built | 1947 |
| 20% Downpayment | $139,800 | ::: | Area | Peacock Village |
| Income Required | $174,750/yr | ::: | Type | SFR |
| Est. Payment* | $3,534/month | ::: | MLS# | H08047616 |
*Estimated monthly payment assume 20% down, 30-yr fixed @ 6.50%
"* * SHORT SELL PROPERTY * * SUBJECT TO LENDER APPROVAL * * BEAUTIFUL HOME LOCATED IN THE VILLAGE AREA, PRIVATE CUL-DE-SAC STREET. REMODELED IN 2005. NEW ELECTRICITY WIRING, PLUMBING. A/C. DOUBLE PANE WINDOWS, KITCHEN CABINETS, APPLIANCES. CLOSE TO SHOPPING MALL AND MARKET. SPACIOUS BACKYARD WITH MANY FRIUT TREES."
Yesterday I spotted a foreclosure on Foreclosure.com just a few block away on Columbia Rd and today I see a short sale in the same community. While two distressed properties don't mean the world, it does refute many realtors' arguments about how the high end areas are "immune" to the market crisis. This short sale may or may not go through; we'll see.
Purchase Price $669,000
Purchase Date 02/28/2005
Loan $535,200
Downpayment $133,800
This buyer put a $133k (2o%) downpayment and is listing the property for $30k above the previous purchase price. It's unfortunate I couldn't find anymore information on the loans tied to this property because the seller must have HELOC'd himself into oblivion for this to be a short sale. At $669k, the homedebtor took back the entire 20% downpayment and cashed out $30k+ in equity.
Homes in this neighborhood were going for upwards of a million dollars in the heydays and my guess is that the HELOC was a lot more than just $30k. The description states that the property was renovated in the same year it was purchased so it could be a failed flip by a newb investor. It's hard to say without more numbers on how much and when the home equity loans were taken.
The previous sale was in May of 2001 for $365,000. If there was no bubble and I factored in the following annual appreciation/inflation rates, the property would be worth…
3% $448,903
4% $480,315
5% $513,592
To be fair, I would tack on an additional $50k-$75k for the renovations done to the property. New plumbing and electrical work isn't exactly cheap and probably much needed on a 60 year old property. It's a shame the realtor didn't show pictures of the inside. Not that I can see the new wires or the pipes, but it would have been nice to see the new kitchen. $699k is a fair price for right now, but it will be much lower in another year or so.