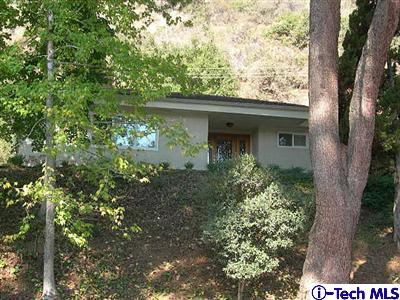 | | | | | |
| --- | --- | --- | --- | --- |
| Asking Price | $899,500 | ::: | Sq-ft | 1,873 |
| Purchased Price | $455,000 | ::: | Lot Size | 0.87 acres |
| Purchased Date | 05/23/2001 | ::: | Beds | 2 |
| Days on Redfin | 44 | ::: | Baths | 2.25 |
| $/Sq-ft | $480 | ::: | Year Built | 1960 |
| 20% Downpayment | $179,900 | ::: | Area | Highlands |
| Income Required | $224,875/yr | ::: | Type | SFR |
| Est. Payment* | $4,548/month | ::: | MLS# | 22106521 |
*Estimated monthly payment assume 20% down, 30-yr fixed @ 6.50%
"New windows, plantation shutters, doors and wood floors, were installed several years ago. The sunny kitchen has recently had manufactured granite counter tops installed as well as a new kitchen sink, double convection ovens and Italian 5-burner gas cooktop."
From the title information, this appears to be an investment property and according to the description noted above, it's also a flip attempt several years late. I find it odd that the sellers would spend money on new appliances, hardwood floors and granite countertops, but leave the dated kitchen cabinetry. If I were a buyer, I would still classify this as a fixer. The plantation shutters are nice, but most of the rooms still need some work. The property is nice, but dated and could use a refresher. Additionally, instead of worrying about significant home repairs after you move it, it might be wise to consider purchasing a home owners warranty.
Purchase Price $455,000
Purchase Date 05/23/2001
Loan $364,000
Downpayment $91,000 (or 20%)
This was purchased 7 years ago for half of the current asking price. The original listing price from March 2nd, 2008 was $925k and was reduced to $899,500 yesterday. The purchase in 2001 was already showing some symptoms of early-bubble fever. The previous purchase just two years prior in 1999 for $365k meant that the 2001 purchase for $455k gained 11.7%/yr appreciation. Incomes and comparable rents don't jump 11% a year. Little did we know that 1999-2001 was only the beginning of a massive housing bubble.
If there the bubble did not exist and we applied the 3%, 4% and 5% compound annual appreciation to the 2001 purchase price, this property would be worth approximately $560k, $599k and $640k, respectively. If we use that as a baseline comparison, that means this property is overpriced by over 40%. Surely one can make the argument that this property is worth what buyers are willing to pay for it today and although it may not be $640k, it obviously wasn't $925k. It's another classic case of sellers chasing down the market.
Will someone pony up money to buy at the current asking price? Who can put down $180k cash downpayment and support a $720k mortgage at today's interest rates? Who has good credit? Who has the documented income to secure such a loan? And most importantly, do the people who qualify for all of the above even like this house? Perhaps. Perhaps not.