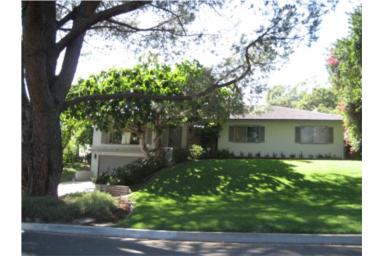 | | | | | |
| --- | --- | --- | --- | --- |
| Asking Price | $1,350,000 | ::: | Sq-ft | 2,810 |
| Purchased Price | $600,000 | ::: | Lot Size | 0.32acres |
| Purchased Date | 07/14/1989 | ::: | Beds | 3 |
| Days on Redfin | 185 | ::: | Baths | 2 |
| $/Sq-ft | $480 | ::: | Year Built | 1961 |
| 20% Downpayment | $270,000 | ::: | Area | Highlands |
| Income Required | $337,500/yr | ::: | Type | SFR |
| Est. Payment* | $6,825/month | ::: | MLS# | A07150855 |
*Estimated monthly payment assume 20% down, 30-yr fixed @ 6.50%
"THIS DESIRABLE "HIGHLAND OAKS" SINGLE STORY, W/ OVER 2800 SQ FT, HOME HAS BEEN MAINTAINED TO PERFECTION. THIS CLASS HOME HAS BEEN COMPLETELY & TASTFULLY UPGRADED." That's funny, the kitchen still looks pretty dated to me.
Purchase Price $600,000
Purchase Date 07/14/1989
Loan $400,000
Downpayment $200,000
HELOC Amount $322,700
HELOC Data 04/14/2003
The seller bought during the height of the previous bubble for $600k and was able to sit out the downturn because he put down 33% downpayment. In addition to that, interest rates dropped as the bubble correction continued so he could have refinanced to lower their monthly payments. The future knife-catching buyer of this same property won't be as lucky as his predecessor. Interest rates are on the rise and we're still nowhere near the bottom of this housing mess.
From 1989/1990, LA county home prices dropped 20% over the course of 7 years. Assuming this house followed the same pattern, it would have been worth around $480k in 1997. Applying a 3%, 4% and 5% annual appreciation to the $480k price over the last 11 years will place this property's current value at $665k, $739k and $821k, respectively.
Of course, we can't just sit here and pretend there wasn't a bubble. The bubble was massive and perhaps they could have commanded $1.35MM back in the heydays, but according to DataQuick – prices of SFRs in zip code 91006 took a -33.2% tumble in March 2008 from March 2007. Take that amount off of the asking price and you'll end up at $901,800. For something that would be valued at around $739k in a normal market, it's still over-priced.
Do you think this is the bottom? Will prices continue to fall or is that it? If you think Arcadia will only lose 20-30% of it's price from peak values, then you should run out and buy a place right now. However, if you're like me and think the upcoming Alt-A loan resets, foreclosures, weak economy and increasing inventory will further depress prices, then sit back and enjoy the show for another couple of years. This property's seller is looking for a knife-catcher. Will one bubble buyer takeover for another?