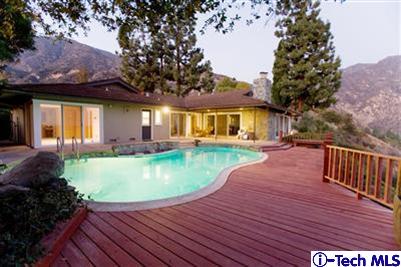 | | | | | |
| --- | --- | --- | --- | --- |
| Asking Price | $1,399,000 | ::: | Sq-ft | 2,129 |
| Purchased Price | $1,180,000 | ::: | Lot Size | 0.97acres |
| Purchased Date | 9/1/2006 | ::: | Beds | 2 |
| Days on Redfin | 125 | ::: | Baths | 2.25 |
| $/Sq-ft | $657 | ::: | Year Built | 1959 |
| 20% Downpayment | $279,800 | ::: | Area | Highlands |
| Income Required | $349,750/yr | ::: | Type | SFR |
| Est. Payment* | $7,073/month | ::: | MLS# | 22103235 |
*Estimated monthly payment assume 20% down, 30-yr fixed @ 6.50%
A view from above – that's what this property offers. It's a spectacular view and I'm sure the sellers enjoy it, but they should really take a step back and take a look around the current real estate market. This is a classic case of how buying at the wrong time can really hurt you. Apparently having to take on two mortgages at over a million dollars didn't deter these folks from buying. I wonder if they bought because they assumed they would be "priced out forever" if they didn't.
Purchase Price $1,180,000
Purchase Date 09/01/2006
1st Loan $944,000
2nd Loan $118,000
Downpayment $118,000 (10%)
The conditions in which someone can comfortably afford this home is outrageous. How many people/families can put down $280k cash downpayment, have an annual gross income of $350k and afford monthly mortgage payments of over $7,000 excluding insurance, taxes and maintenance? I personally only know of one family who can afford a house at this price, but I may just be running in the wrong circle of acquaintances.
I include those values on each property profile to provide some perspective on how realistic these prices are once you remove the contributing factors to the housing bubble. People were able "afford" crazy bubble prices when there was a secondary mortgage market to lend out cheap money at artificially low interest rates. They were also able to get away with lying on their application about their income in order to secure the required loan(s). On top of that, buyers weren't even required to bring the traditional 20% admission fee. When you combine all of the above with greed, it becomes the Grand Canyon of bubbles.
Now that all the dust has settled and banks realize people can't honor the contracts they've signed and repay the adjusted mortgage payments, the market forces are reacting to make those necessary adjustments. Without the avenues by which to purchase this home for cheap, the market value of property will drop to sustainable levels.
This is a nice home with a huge lot up in the hills with a view, but that doesn't justify the outrageous $657/sqft asking price. The sellers bought on the high in late summer of 2006 and hoped for the double-digit appreciation to continue. Now that the market turned sour, they are looking to get out and are demanding to make $135k after 6% commission. Buyers who can actually afford a $1.4MM home are expecting more than this property has to offer and others who are looking for a home of this caliber are turned away by the asking price. No wonder it's been on the market for 125 days!
Here's some mid-week humor…