I recently had the opportunity to meet with 3 individuals who "specialize" in real estate investments. I say this with a sarcastic tone because these guys started flipping properties in 2003 and rode the real estate bubble to success. With all the news lately regarding the drop in real estate prices, increase in foreclosures and other record breaking data, these real estate professionals claimed that we'll hit rock-bottom this Fall and it'll be time to jump in again. Since I was the youngest in the meeting, my attempts to explain that we are at least 2 years away from bottoming out were dismissed as ludicrous.
There is no doubt that there will be plenty of knife catchers out there and even many self proclaimed real estate gurus will be victims. What many people don't realize is that unlike stocks, real estate is not a very liquid asset. It takes several years for values to run up and equally as long to crash.
Let's take Wall Street's recent poster child for failure as an example. Countrywide Home Loans' stock soared alongside our current housing bubble. It went from $13 in 2003 and peaked at $45 in early 2007.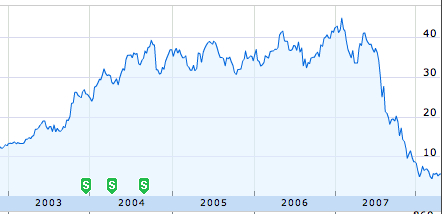 As soon at the subprime lending market tanked, it took only 6 months for Countrywide's stock price to hit $8. It has since bottomed out around $4 before Bank of America decided to bail… sorry, I meant buy them out. Gosh, that sounds awfully familiar.
Unfortunately for us, real estate transactions take 30 days or longer to complete so data is always lagging behind. Because this is the case, historical figures and graphs from providers such as DataQuick and the Case-Shiller Housing Index are valuable resources (below).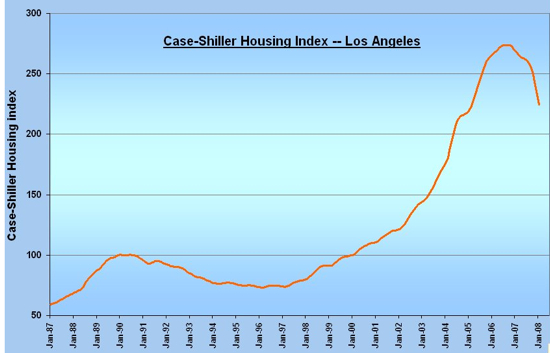 According to this data, Los Angeles home prices peaked around mid-2006 and it has been dropping for over 18 months now (20 if you count February and March). If you look at home prices between 1995 and 1997, you will notice that the market bottomed-out and stayed that way for approximately 2 and a half years.
I keep hearing that us Arcadians now have this psychological barrier when it comes to home prices and the days of desirable $200-400k homes or condos are long gone. If you believe this then be my guest and purchase a home this Summer.
As for me, history says that buying in these market conditions is equivalent to catching a falling knife: the pain will come fast and hard as your neighbor's REO wipes out any equity left in your home.
This post inspired by my clueless associates and Patrick.net's Don't Catch a Falling Knife.