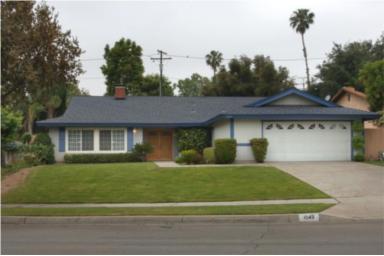 | | | | | |
| --- | --- | --- | --- | --- |
| Asking Price | $858,000 | ::: | Sq-ft | 2,103 |
| Purchased Price | $336,500 | ::: | Lot Size | 9,060 |
| Purchased Date | 12/4/1997 | ::: | Beds | 3 |
| Days on Redfin | 5 | ::: | Baths | 2 |
| $/Sq-ft | $408 | ::: | Year Built | 1975 |
| 20% Downpayment | $171,600 | ::: | Area | Foothill/210 Fwy |
| Income Required | $214,500 | ::: | Type | SFR |
| Est. Payment* | $4,338/month | ::: | MLS# | A08068681 |
*Estimated monthly payment assume 20% down, 30-yr fixed @ 6.50%
"Warm and Inviting! . .. Convenient Location in Prime Highland Oaks Area of Arcadia??? Close to all Fabulous Arcadia Schools???Double Door Entry with Beautiful Marble Flooring. .. Lovely Living Room with Large French Window View and Custom Drapery??? Spacious Open Dining Area with Chandelier and French Window View???Wonderful Kitchen with Tile Counter Tops, Plenty of Cabinetry, Built-Ins and View to Back Yard???Delightful Breakfast-Nook with Built-In Secretarial Desk, French Window View, Newer Flooring and Access to Outside Patio???Entry Leads to a Pleasant Family Room Large Brick Fireplace and Hearth and Sliding French Door Access to Outside Pool???Bedroom Hallway with Coat Closet and Full Bath with Double Sink???Hallway with Linen and Coat Closet???Open Laundry Area with Shutter Doors???All Bedrooms are Bright and Airy???One Suite with Access to Outside Patio???Great Back Yard with Large Pool, Plenty of Fruit Trees and Greenery???Two Car Garage and Storage Space. . A Home Full of Charm!!!"
I find this listing description incredibly annoying. When it comes time for me to sell a home, it will be a requirement of my realtor to write in full sentences with proper grammar. Every time I go grocery shopping at Pavilions, I see this realtor's ad on the carts and laugh. Should I place an AHB ad in the slot next to her's? I would get a kick out of that.
When I don't see any pictures of the interior, I automatically assume the place is dated. When I don't see any pictures of the backyard, I automatically assume it's small or poorly maintained/designed. Is this a fair assumption? Maybe and maybe not, but if those were positive qualities – why didn't they post pictures of it? I have been to this home on a number of occasions and can tell you that while the property is well maintained, it's quite dated. The kitchen is clean, but old. The sliding glass doors are a thing of the past and it leads to a tiny backyard that has 80% of its space taken by a small pool.
The real kicker for me is the proximity to the 210 freeway. This street slopes downward towards the freeway that's just 4 houses away. That's literally just a stone's throw from the noise, smog and dust that comes from a high traffic freeway. On the other side you have Foothill Blvd. While it's not as busy as the freeway, it's still a large street with plenty of traffic. I don't know about you, but I'd hate to be trapped between these two corridors.
That's all subjective and it's just what SavedbyGrace thinks. What do the numbers tell us? The seller put 20% down back in 1997, the bottom of the previous cycle, and bought for just $336,500. If the recent bubble never came to about, this property would be worth the following…
3% $458,961
4% $507,967
5% $561,659
But wait, there was a bubble. So what now? It's always a good idea to look at rental equivalents. Similar sized single-family homes like this and this are renting for $2300 and $2350 per month, respectively. If you look at the chart above, buying at the current asking price with a 20% down @ 6.5% for 30-yr fixed would cost $4,338/month excluding taxes, maintenance and insurance. When you include those factors, the monthly costs are more than double that of the rental equivalents.
If you assess the comparison with a gross rent multiplier, this property comes in at about GRM = 365. I've often referred to stable GRMs being in the range of 160-200 and this particular listing is way above and beyond that. Assuming a GRM of 180 is middle ground, its current GRM is 2X that number.
Taking everything into account, there's nothing that points to this property being worth anywhere near $858k. The location, rental equivalent and GRM all say it should not be worth more than $562k. I assume properties like this will fall back to the low $500k in a few years time. Anyone who buys now will be nothing more than a knife-catcher.