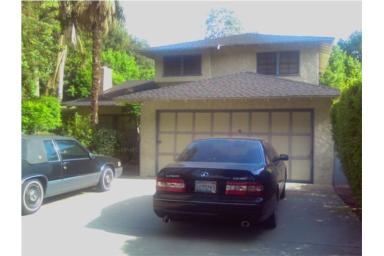 | | | | | |
| --- | --- | --- | --- | --- |
| Asking Price | $718,000 | ::: | Sq-ft | 1,956 |
| Purchased Price | $268,000 | ::: | Lot Size | 8,875 |
| Purchased Date | 09/23/1993 | ::: | Beds | 3 |
| Days on Redfin | 2 | ::: | Baths | 3 |
| $/Sq-ft | $367 | ::: | Year Built | 1969 |
| 20% Downpayment | $143,600 | ::: | Area | Santa Anita |
| Income Required | $179,500 | ::: | Type | SFR |
| Est. Payment* | $3,630/month | ::: | MLS# | A08071473 |
*Estimated monthly payment assume 20% down, 30-yr fixed @ 6.50%
"* Short Sale * Nice corner lot, needs new owner to give it TLC. Good size pool in backyard. Property is being sold in its "as is" condition. Buyer and buyers' agent to verify all listing information. Seller to choose all services."
When I starting looking at Arcadia properties on a daily basis a little over a year ago, it was difficult to find many properties in distress. Today, the picture is very different. Today's short sale is one of the 65 pre-foreclosures TheArcadian reported on in last Sunday's inventory report. With a good chunk of Alt-A loans still to reset in the coming months, I can't imagine things getting any better any time soon.
This property is listed as a fixer upper with no pictures of the interior. If I were a buyer, I would just consider the interior a complete gut. Also, if the inside is in bad shape, it's fair to assume the exterior of the house has not been maintained well either. Anything that's being sold "as is" should raise a red flag caution in any buyer's mind.
From the available loan information, this house was purchased for $268k in 1993. If they had a 15yr mortgage, the house would be paid off by now. Instead, this listing is currently a short sale subject to lender approval. For that to happen, the seller must owe the lender more than the $718k asking price if it requires the bank's approval. That means they pulled out their 20% downpayment, the payments they made over the years plus some easy HELOC money during the boom to fund whatever lifestyle and/or investments they have going on.
Purchased for $268k and listed as a short sale for $718k. If this is typical of the massive housing bubble, and I believe it is, then we're in for a rough ride. The weekend has arrived so keep your eye out for interesting properties, distressed or not, in the area and come back to AHB to let us know about it.