3137 Center St.
Arcadia, CA 91006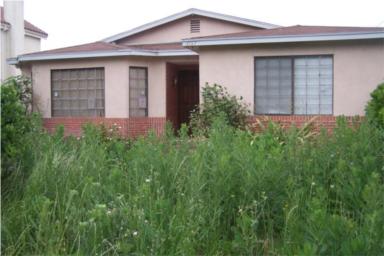 | | | | | |
| --- | --- | --- | --- | --- |
| Asking Price | $459,900 | ::: | Sq-ft | 1,987 |
| Purchased Price | $900,000 | ::: | Lot Size | 10,202sf |
| Purchased Date | 10/23/2006 | ::: | Beds | 4 |
| Days on Redfin | 10 | ::: | Baths | 2 |
| $/Sq-ft | $231 | ::: | Year Built | 1947 |
| 20% Downpayment | $91,800 | ::: | Area | Bordering El Monte |
| Income Required | $114,750 | ::: | Type | SFR |
| Est. Payment* | $2,320/month | ::: | MLS# | A08068868 |
*Estimated monthly payment assume 20% down, 30-yr fixed @ 6.50%
This is an REO currently listing for 50% off its 2006 asking price! From the only photo they uploaded, the property has been neglected for some time as you can see from the overgrown grass. It's not in the greatest part of town, but it's still Arcadia and I couldn't pass up sharing a 50% off listing. Pretty soon we'll be seeing large discounts even in the better neighborhoods.
The property is another example of how stupidity and greed is a lethal combination. This house was purchased in 2006 with 100% financing and now the bank is left holding the bag. There was a $750,000 first and a $150,000 second mortgage on this distressed property. The banks paid $900k for something that, in my opinion, is worth less than the current asking price of $459,900. Think about that for a moment. The second loan suffers a total loss of $150k and the primary mortgage holder could lose $317,694 after 6% commission. The grand total depreciation of this property is $467,694 — if they get their current asking price.
Who are the losers here? The homedebtors who were actually flippers that came into the market at the wrong time? The banks who got greedy and lent out more money than was reasonable? They're both losers, but the ones that have to live with it and breathe it day in & day out are the neighbors. Sure the property was never worth that much to begin with, but nothing screams neighborhood comp killer like a property at half off the previous transaction just 19 months ago.
Neglected homes not only bring down the neighborhood comp prices, but also its hopes and emotions for any summer rebound of the market. Banks don't have emotions. They have numbers, record books, shareholders and investors. This REO will make it tough for any other comparable properties in the area to sell for much more than $230/sqft.