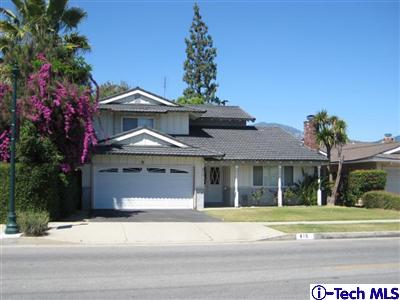 | | | | | |
| --- | --- | --- | --- | --- |
| Asking Price | $574,000 | ::: | Sq-ft | 1,823 |
| Purchased Price | $575,000 | ::: | Lot Size | 5,356 sqft |
| Purchased Date | 12/17.2004 | ::: | Beds | 4 |
| Days on Redfin | 2 | ::: | Baths | 2 |
| $/Sq-ft | $315 | ::: | Year Built | 1965 |
| 20% Downpayment | $114,800 | ::: | Area | Near Monrovia |
| Income Required | $143,500 | ::: | Type | SFR |
| Est. Payment* | $2,902/month | ::: | MLS# | 22110843 |
*Estimated monthly payment assume 20% down, 30-yr fixed @ 6.50%
Another day, another 100% financing deal gone wrong in Arcadia. According to Property Shark, this property was purchased in December of 2004 with two loans, a first loan of $460k on a ARM and a fixed second of $115k. The March 2008 transaction shows the bank taking back the property for $616,421. Since the original purchase price was just $575k, I suspect the homedebtor used that ATM bolted on the side of the house to pull out some easy HELOC money between 2004 and 2008.
I've said it before and I'm going to say it again. Banks have no emotional ties to the properties they hold and will unload them at whatever price the market will bear. With the rising notice of defaults and foreclosures raping the southland, banks cannot afford to hold on to REOs in hopes that the crash has "bottomed," nor can they wait for prices to increase. They have obligations to shareholders and unsold REOs on their books is like an anvil in the water.
This particular property is moderately priced, but not priced to sell. There is another listing just down the street with 3 bedrooms and a bigger lot asking for $429,900. At $299/sqft, it's slightly cheaper than this house. Coincidentally, that listing is also an REO. It's still early in the housing correction, but we are starting to see 2004 rollback prices in Arcadia and I expect to see more of those later this year.