Update* – Reduced to $1,294,876 (-$64,000)
I profiled this property two months ago and it has since taken a $64k reduction in the asking price. As noted in the comments section of the original post, there was decent foot traffic through the open house back in March. Apparently nothing came about because it's still on the market.
The Highlands is suppose to be one of Arcadia's premier locations, but properties are sitting on the market just like any other listing. Not only that, the spring and summer seasons are suppose to be prime "boom months" in real estate, yet we're seeing price reductions and increasing days on the market. At what point will the bulls stop their propaganda about how we've bottomed, how things will pick up during the summer and turn around towards the end of the year?
A near 5% price reduction isn't enough to wet my palette, but that's enough to show softness in the market. $64k isn't a whole lot of money, but it's more than most people make in the two months it took for the price to drop. Let's see – wait a couple months and save $64,000; I could do that. Heck, I could wait all year!
——————————————————————–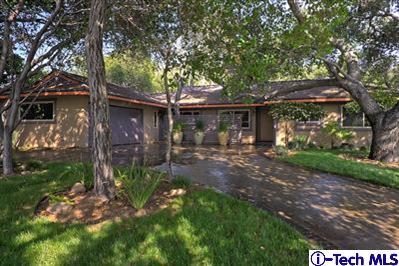 | | | | | |
| --- | --- | --- | --- | --- |
| Asking Price | $1,358,876 | ::: | Sq-ft | 2,788 |
| Purchased Price | $980,000 | ::: | Lot Size | 0.28 acres |
| Purchased Date | 08/24/2007 | ::: | Beds | 4 |
| Days on Redfin | 11 | ::: | Baths | 3 |
| $/Sq-ft | $487 | ::: | Year Built | 1957 |
| 20% Downpayment | $271,775 | ::: | Area | Highlands |
| Income Required | $339,719/yr | ::: | Type | SFR |
| Est. Payment* | $6,870/month | ::: | MLS# | 22107958 |
*Estimated monthly payment assume 20% down, 30-yr fixed @ 6.50%
"Completely redesigned by daniel deleon design, the subtle, yet tasteful, Asian contemporary elements lend it a zen-like ambiance and the great floor plan is oriented to fully enjoy yard and canyon views. Move from the brand new kitchen into the large great room or spacious dining room. Enjoy the fireplaces or the view from either room. Truly a turn-key home, it boasts a media-ready family room, a master suite, private in-law or guest apartment, all new windows and doors, hardwood floors throughout, large under-ground wine cellar and many other fine features."
This is a beautiful property and an example of why I've fallen in love with parts of Arcadia. Although it was built in the 50s, it's been completely remodeled and in my opinion look leagues better than any of those mcmansions that have sprung up over the years. It sits up in the hills on the east edge of the Highland community, which I will profile soon. Without any neighbors along the back of the property, it's probably very private. I like this house and could I afford it, I would probably buy it.
Back to the profile part of things, this is a flip. It was purchased a little over half a year ago for $980k and renovated to its current state. The original structure was half a century old and from the pictures, it seems like it was a complete gut. It's also the first property I've profiled that has an underground wine cellar. If that wasn't original, the flipper spent a lot of money digging dirt.
Purchase Price $980,000
Purchase Date 08/24/2007
1st Loan $784,000
2nd Loan $98,000
Downpayment $98,000 (10%)
With similar sized homes in the Highland Oaks area renting for $3,000/month, this property is overpriced. Granted, it was completely renovated, but I find it hard to believe it would rent for anymore than a 25% premium (or $3,750/month). A recent sale on 1728 Highland Oaks just up the street sold for $910,000 in February 08. That property had one less bedroom, but was of comparable size in the same community. At $910k, the sale occurred at $379/sq-ft.
$379/sq-ft x 2,788 sqft = $1,056,652
$910,000 (recent comp) / $3,000 (rental) = GRM of 303
1,358,876 (asking price) / $3,000 (rental) = GRM of 453
Admittedly, it would probably be worth a little more than $1,056,652 right now because of the remodeling that was done to the property, but I don't think it's $300k+ in renovations. That's at today's prices. I would venture to say that a home like this could dip as low as the $900k's in a few years time.
Thanks to our reader 626chump for alerting me to this property. If you end up going to the open house this weekend, don't forget to come back on AHB to let us all know how it went. Also, I invite anyone else who attends open house(s) to drop a comment or two about how the market is doing. Since I'm not currently in the market to buy, I'm not evil enough to attend open houses just to make low-ball offers. Although, that will change as the market correction continues.
Have a wonderful weekend 🙂