Zip Codes: 91006, 91007

Current Market Listings as of May 31st, 2008*
Properties for Sale: 243 (+13)
Median Listing Price: $759,900 (-1.15%)
Weekly Foreclosure Update*
Properties in Foreclosure: 25 (0%)
Properties in Pre-Foreclosure: 75 (+9)
*+/- is compared to previous week's data.
Changing landscape for Realtors
Apparently, we're not the only ones that think the average Realtor's job description is about to change. Jeff Jarvis writes an excellent article on why this is so in Realtors, Prepare to Lose Your 6 Percent.
The only reason — only reason — that Realtors could hold onto their high commission for such little value and work is that they kept information away from the marketplace, making it inefficient.
Despite the changing role of Realtors, I still believe real estate professionals are invaluable in the selling and buying process. I see many FSBO (for sale by owner) listing which could really use some help. It just so happens we came across this photo today to reinforce that idea: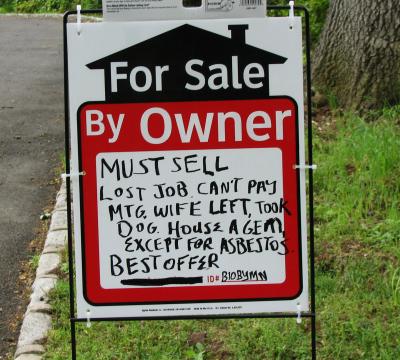 Property and foreclosure numbers obtained from U.S. Census, ZipRealty, Trulia, Yahoo Real Estate and Foreclosure.com. Market listings and price data obtained from DataQuick News.