Here is a list of some properties we profiled the last 3 months. Some have been sold and many are still… not!
35 W. Norman – Listed: $1,338,000, Sold for: $1,100,000
31 Woodlan Ln – Listed: $1,724,980, Sold for: $1,667,500 after 350+ DOM.
750 Arcadia Ave – Listed: $558,000, Sold for: $540,000
707 Joanquin Rd– Listed: $699,000, Now listing for $829,00 ~WTF
930 Panorama – Listed: $1,175,000 , Now listing for $998,000 (270 DOM)
1642 N. Santa Anita – Listed: $928,000, Now listing for $878,000
Most of the listing we profiled since January are still on the market, unsold and reflecting multiple price reductions. Many of the listings have been "refreshed" by the listing agent so the "days on market" figure is actually lower than it is.
In addition to the existing re-sale listing, we're seeing more REOs and shortsales coming onto the market. As this article from The New York Times state, even Prime mortgages are seeing a spike n foreclosure activity.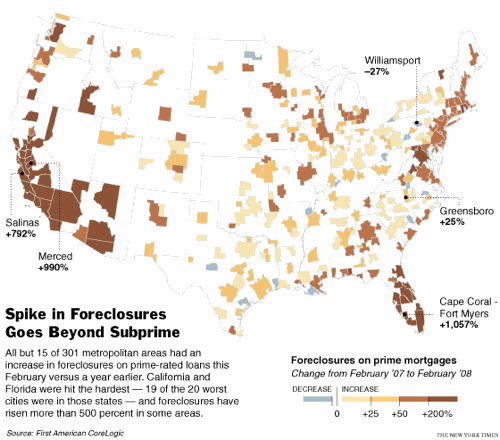 Oh look here – It seems like California is leading the way again in distressed properties.