Holy cow! I can't keep up with all the new $2,000,000+ listing that keep popping up every other day. This will be an interesting Summer as all the folks who can't afford their McMansions anymore try to pawn it off to a lucky clueless buyer. Heck, some of them will even try to make a buck or two during the process….
2428 S 2nd Ave
Arcadia, CA 91006
Asking price? A whopping $3,188,000 (478/sf)!
You are in fact getting a lot of home for the money:
Beds: 6
Baths: 6.5
Sq. Ft.: 6,671
It is possible to squeeze 3 families into a home this size. Unfortunately, similar to other million dollar plus homes I've profiled, privacy is not something $3MM+ will buy you. This house is sitting on a tiny 1/3 acre: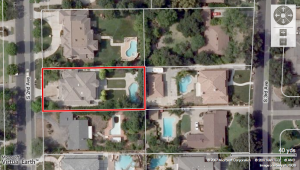 In fact, if you carefully look, only a 5'+ wall separates you from the neighbor's backyard (also another McMansion).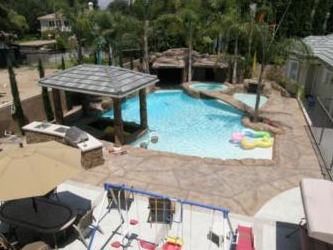 At $3,188,000, this seller want to make a cool $500,000 on his investment.
SALES HISTORY

Date Price Appreciation
May '91 $340,000
Oct '96 $80,000 -23.6%/yr
Nov '04 $713,000 31.2%/yr
Nov '06 $2,688,000 92.5%/yr
This is ridiculous. Even in extraordinarily pricey areas, $3.2MM can buy you more than a over-sized home. Take Newport Coast for instance. You're money won't go too far in this community, but dollar for dollar you at least get a view of the Pacific Ocean.
6 Dolomiti
Newport Coast, CA 92657