330 W. NAOMI Ave.
Arcadia, CA 91007
Beds: 7
Baths: 7.5
Sq. Ft.: 8,166
Lot Size: 0.59 Acres
Words cannot describe what I feel abou this property. Although I can understand why your multi-millionaire dollar celebraties and sport stars would buy an 8,000sf+ mansion/estate, why would anyone spend $3.6MM on a McMansion in the middle of Arcadia? Ok, I know Jet Li used to live here but even he has left town in search of bigger and better things.
Check out the photos. Apparently, no expense was spared.
As with the trend in Arcadia, developers just assume that the Chinese don't use their backyards. All this "UNPARALLELED ATTENTION TO DETAIL" we reserved for the actual house – nothing was spent on landscaping: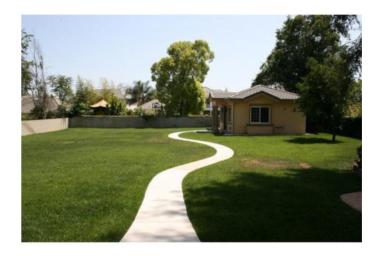 For $3.6MM+ I would, at the minimum, expect a custom-designed pool with running waterfall and spa. Heck, even the equally bizzare 705 Carriage House has more to offer (minus the square footage).
Carried Away with the House
Price: $3,238,000 (Redfin link)

News – $262,000 price reduction!