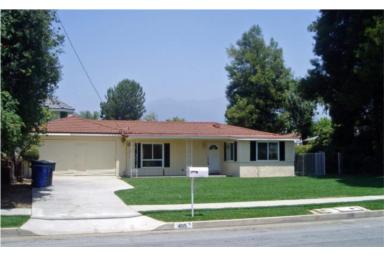 | | | | | |
| --- | --- | --- | --- | --- |
| Asking Price | $548,000 | ::: | Sq-ft | 812 |
| Purchased Price | $505,000 | ::: | Lot Size | 5,040 |
| Purchased Date | 06/08/2007 | ::: | Beds | 2 |
| Days on Redfin | 110 | ::: | Baths | 1 |
| $/Sq-ft | $675 | ::: | Year Built | 1947 |
| 20% Downpayment | $109,600 | ::: | Area | Santa Anita |
| Income Required | $137,000/yr | ::: | Type | SFR |
| Est. Payment* | $2,771/month | ::: | MLS# | A07153216 |
*Estimated monthly payment assume 20% down, 30-yr fixed @ 6.50%
This seller has an astounding asking price of $675/sq-ft for this teeny, tiny 812 square foot house on a postage stamp sized lot. That's about the size of two two-car garages, if not smaller. It's been on the market for 110 days and counting. How many more days and price reductions would it take to move this property?
Past Sales History
June 8, 2007 $505,000
Sept 19, 2005 $550,000
June 16, 2005 $418,181
Dec 30, 1996 $163,000
July 16, 1996 $114,885
Recent Listing History
Oct 20, 2007 $578,000
Dec 17, 2007 $568,000
Jan 30, 2008 $548,000
This property was purchased in June of 2007 for $505,000. After sitting on the home for 4 months, the owner listed it for $578,000. Notice that nothing was done to the property as the kitchen, restroom and landscape renovations were done in 2005. Maybe the owner thinks his "NEW GARAGE DOOR" is worth the $73,000 premium, but the market didn't. The original listing price was followed by 2 price reductions totaling $30,000.
There was an open house at this listing last Sunday, but I didn't go in. I didn't see any cars in front of the driveway so I presumed there were no potential buyers inside at the time. Perhaps I should have went in and asked the realtor why he thinks this house should command $548k or make some ultra low-ball offers just for kicks. I wonder what he would say.
This house is just a few doors down from the $900,000 Dirt we profiled last week. I went by to check out that property in person and took some better pictures. Look for an update on that property tomorrow.