Zip Codes: 91006, 91007

Current Market Listings as of February 16th, 2008
Properties for Sale: 248
Median Listing Price: $755,000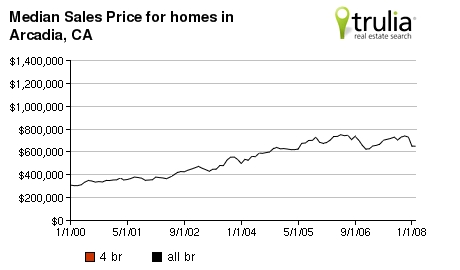 Foreclosure Updates as of February 16th, 2008
Properties in Foreclosure: 10 (+2*)
Properties in Pre-Foreclosure:70 (+4*)
*Compared to previous week.
In 2000, the estimated median value of homes and condos in Arcadia was $393,700. Based on U.S. Census data, that figured ballooned to $903,500 in 2005. That's a 129% increase of value. Do your investments return 25.8% annually?
Just 5 months ago, Doctor Housing Bubble had reported that "Arcadia with a median of $752,000 is up 19.3 percent year-over-year." Will 2008 see more record appreciation levels?
Property and foreclosure numbers obtained from U.S. Census, ZipRealty, Trulia, Yahoo Real Estate and Foreclosure.com. Market listings obtained from DataQuick News.