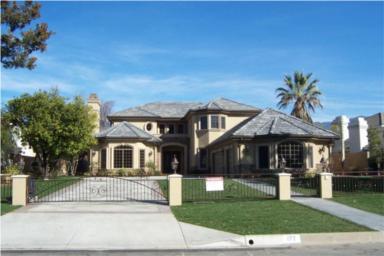 | | | | | |
| --- | --- | --- | --- | --- |
| Asking Price | $3,080,000 | ::: | Sq-ft | 6800 |
| Purchased Price | $1,150,000 | ::: | Lot Size | 0.44 acres |
| Purchased Date | 04/19/2006 | ::: | Beds | 6 |
| Days on Redfin | 4 | ::: | Baths | 7 |
| $/Sq-ft | $453 | ::: | Year Built | 2008 |
| 20% Downpayment | $616,000 | ::: | Area | Baldwin Stocker |
| Income Required | $770,000/yr | ::: | Type | SFR |
| Est. Payment* | $15,573/month | ::: | MLS# | A08027264 |
*Estimated monthly payment assume 20% down, 30-yr fixed @ 6.50%
Yesterday's post suggested the possibility that the SGV market will experience an increase in inventory of brand new McMansions over the coming months. I will proceed to document them as they appear on the market. Today we have a new listing for a mansion with an asking price of $3.08MM. Assuming they really did use good materials, it would've cost them approx $225/sqft x 6800 sqft = $1.53MM to build the house.
$3.08MM (asking price) – 6% commission – $1.15MM (purchase price) – $1.53MM (construction cost) – $88k (carrying costs at $4k/month for 22 months) = approx $127,000 profit.
Purchase Price $1,150,000
Downpayment $517,500
Mortgage $632,500
This is an example of specuvestors who came in too late in the game. The property was purchased at the peak of the bubble in Q2 of 2006 and torn down to rebuild this mansion. Since the property wasn't completed until 2008, construction didn't probably didn't begin until 2007 which means it took a long time to obtain building permits.
The seller (who's mailing address is just a few blocks away) put a hefty half a million downpayment so that's good news for the bank, but not so good news for the flipper. Unless he got a substantially lower $/sqft construction price from the contractor, he doesn't have a lot of wiggle room before the $4000/month carrying cost, negotiations and/or price reductions start to eat away at the earnings. Just 4 or 5% off that $3.08MM asking price and it will cut into their downpayment. Do you think these flippers are sweating bullets yet?
Who will pay $3.08MM for a house next to the storm drain in this dying RE market? Who has the cash funds for that extremely large downpayment? Who has the documented income to qualify for a loan of this magnitude? How long will this property sit on the market before a transaction is made? How long will the sellers hold out before reducing the asking price? How many reductions will it take? Only time will tell.