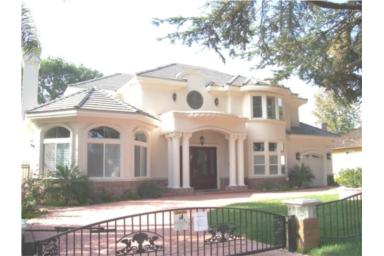 | | | | | |
| --- | --- | --- | --- | --- |
| Asking Price | $2,880,000 | ::: | Sq-ft | 7478 |
| Purchased Price | $750,000 | ::: | Lot Size | 27,063 |
| Purchased Date | 04/19/2004 | ::: | Beds | 7 |
| Days on Redfin | 113 | ::: | Baths | 7.5 |
| $/Sq-ft | $385 | ::: | Year Built | 2007 |
| 20% Downpayment | $576,000 | ::: | Area | Near Monrovia |
| Income Required | $720,000/yr | ::: | Type | SFR |
| Est. Payment* | $14,561/month | ::: | MLS# | A07162003 |
*Estimated monthly payment assume 20% down, 30-yr fixed @ 6.50%
"Brand New Luxurious Estate at Prestigious location in Tree Street."
Riiight. Since when did 8th Street become a prestigious location? The seller would certainly want potential buyers to think that it's prestigious when in fact it's just a 6 blocks away from the Monrovia shooting last month. Let's see, another house requiring half a million dollars downpayment and still over $14,000/month in mortgage payments for basically an overbuilt McMansion doesn't sound appealing to me.
Assuming the same $225/sqft in construction costs as we did in yesterday's profile, this house would have cost our specuvestors $225/sqft x 7478 = approx $1.683MM to build.
$2.88MM (asking price) – 6% commission – $750,000 (purchase price) – $1.683MM (construction costs) – $174,800 (carrying cost at $3800/month x 46 months) = just under $100k profit
Purchase Price $750,000
Purchase Date 04/19/2004
1st Loan $616,000
2nd Loan $77,000
Downpayment $57,000

Listing History
11/7/2007 $2,980,000
2/16/2008 $2,880,000
The mailing address for this property's seller is on the same street as that from the property profiled yesterday. Do flippers congregate and live in clusters? Lately I've been seeing a lot of properties on the market where the seller's mailing address is just a few blocks away right here in Arcadia. It makes me wonder if they decided to buy and flip property on a whim during a stroll in the neighborhood. The number of McMansions in certain parts of the city is overwhelming and with the reckless market psychology we've had in the past few years, it's understandable how so many people got caught up in the storm.
The very act of flipping is going to cause some major problems because flipped properties sit empty. It generates no income yet have reoccurring monthly costs until the property is sold. Every month it sits on the market casts a larger financial anvil on the investors. This particular home has been on the market for almost 4 months with just one 3% price reduction.
If you made $720k/yr, is this a house you'd be willing to pay $14k/month to live in? In an area just a few blocks from recent gang-related shootings? I think not. With the higher interest rates and tighter lending standards, most people won't qualify for a loan this size. The ones who do have documented income to qualify and enough cash for a $500k downpayment will probably not want to live here.
Things aren't looking good for these sellers.