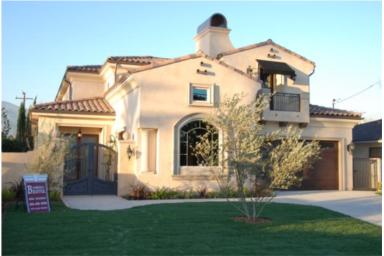 | | | | | |
| --- | --- | --- | --- | --- |
| Asking Price | $1,999,000 | ::: | Sq-ft | 4,475 |
| Purchased Price | $765,000 | ::: | Lot Size | 9,480 |
| Purchased Date | 08/01/2006 | ::: | Beds | 5 |
| Days on Redfin | 7 | ::: | Baths | 4.5 |
| $/Sq-ft | $447 | ::: | Year Built | 2008 |
| 20% Downpayment | $399,800 | ::: | Area | Baldwin Stocker |
| Income Required | $499,750/yr | ::: | Type | SFR |
| Est. Payment* | $10,107/month | ::: | MLS# | A08026688 |
*Estimated monthly payment assume 20% down, 30-yr fixed @ 6.50%
Today marks the 3rd day of our Empty McMansion series and this one just came on the market last week. Compared to the last two properties that needed over $500k for 20% downpayment, this one only requires $400k. Whoopie, I'm sure a lot of people out there have $400k cash just lying around in case overvalued property comes on sale.
$1,999,000 (asking price) – 6% commission – $765,000 (purchase price) -$1,006,875 (construction costs @ $225.sqft) – $61,200 (carrying cost @ $3400/month x 18 months) = approx. $46k profit
Purchase Price $765,000
Purchase Date 08/01/2006
1st Loan $535,000
Downpayment $230,000
All that work and all that stress for $46,000? Doesn't sound logical to me, but then again I didn't drink any of that toxic kool-aid either. This seller bought the property at the peak of the bubble in summer of 2006. It probably took them months to get permits and funding to build the property for sale today and nearly as long to construct it. For almost $2MM asking price, $46k is not a lot of negotiating room. It would take a year of carrying costs to wipe out $46k, but only a 3% price reduction to start put their books in the red.
How much do you think they spent on that "unique venetian plastered fireplace" or the "expensive Italian porcelain tile?" I don't know how much, but I do know they'll be regretting it soon enough.
"Unlike other new homes, you will notice that the interior was professional designed…" It looks the same to me. It has that track-home look and doesn't look a bit custom to me. Heck it doesn't even have undermounted sinks in what looks like the master bath. For $2MM you'd think it'll at least come with some nice fixtures.
Its neighboring house is also on sale. Apparently, they've drank the kool-aid too because I can't imagine why anyone would pay $1MM for a 58 year old dump. Yes, if you purchase this $2MM new construction, don't expect your neighbor's house to look that great. This listing is currently at $447/sqft. In this slowing economy and dying RE market, I can't help but wonder how many months and price reductions will it take to see this property.