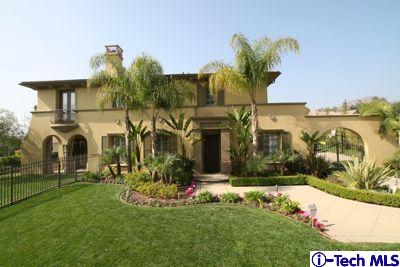 | | | | | |
| --- | --- | --- | --- | --- |
| Asking Price | $3,500,876 | ::: | Sq-ft | 5,755 |
| Purchased Price | $1,953,500 | ::: | Lot Size | 25,157 |
| Purchased Date | 07/24/2002 | ::: | Beds | 5 |
| Days on Redfin | 4 | ::: | Baths | 6.5 |
| $/Sq-ft | $608 | ::: | Year Built | 2002 |
| 20% Downpayment | $700,175 | ::: | Area | SantaAnitaOaks |
| Income Required | $875,219/yr | ::: | Type | SFR |
| Est. Payment* | $17,700/month | ::: | MLS# | W08004196 |
*Estimated monthly payment assume 20% down, 30-yr fixed @ 6.50%
This beautiful property is located in the "exclusive guard-gated community of Anoakia Estates" up in the Santa Anita Oaks area. Too bad they want $3.50MM for it when they paid just $1.95MM five and a half years ago. That's the same as making over $240k/yr after taxes except you didn't have to do anything but maintain the property.
Purchase Price $1,953,500
Purchase Date 7/24/2002
1st Loan $1,300,000
Downpayment $653,500

HELOC Date 6/2/2005
HELOC Amt $550,000

Combined Mortgage $1,850,000
These folks actually put down a good size downpayment when they purchased the new home in 2002 for just under $2MM. Interest rates were low so 30-yr amortized monthly payments were probably manageable even for a loan of this magnitude for someone making about $400k/year. Fast forward 3 years and the banks were essentially giving out free money with artificially low rates and option loans so the owners pulled out a $550k HELOC based on the expectation of never ending double-digit growth.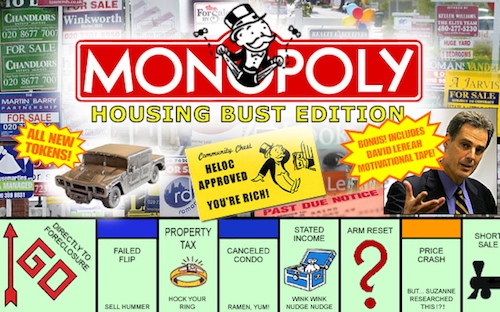 Fast forward another 3 years and their bubble finally popped. They realized that interest rates won't stay low forever, banks aren't giving away free money anymore and southern California real estate prices are going for a great big dip. Or perhaps their option loan HELOC rate reseted and they didn't want to make those payments anymore. Either way, they're looking to get out and make some good money while they're at it.
If they get this mansion-sized asking price, they would make over $1.3MM after 6% commission. I understand certain communities, especially gated ones in the hills, normally command a slightly higher premium, but don't you think $608/sqft is a bit extreme? Even if a move up buyer could put a whopping $700k down payment from their previous sale, they would have to make around $875k/yr and be able to make $18k/month mortgage payments (excluding property taxes, HOAs, maintenance etc). Oh yeah, and they have to prove that they actually make that much so dirty money doesn't count.
Who's ready and willing to put down $700k cash and take on $22k/month carrying costs for the next 30 years to own this house? Any takers?