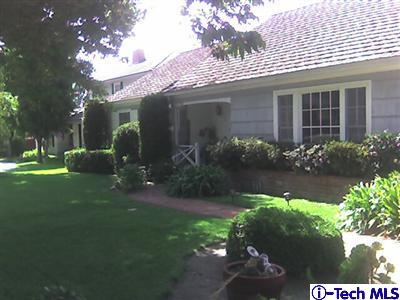 | | | | | |
| --- | --- | --- | --- | --- |
| Asking Price | $1,080,000 | ::: | Sq-ft | 2,317 |
| Purchased Price | $960,000 | ::: | Lot Size | 10,390 |
| Purchased Date | 12/01/2005 | ::: | Beds | 3 |
| Days on Redfin | 196 | ::: | Baths | 2 |
| $/Sq-ft | $466 | ::: | Year Built | 1948 |
| 20% Downpayment | $216,000 | ::: | Area | Peacock Village |
| Income Required | $270,000/yr | ::: | Type | SFR |
| Est. Payment* | $5,460/month | ::: | MLS# | 22098482 |
*Estimated monthly payment assume 20% down, 30-yr fixed @ 6.50%
"SELLER ARE EASY TO WORK WITH AND WILL ENTERTAIN YOUR OFFER. SELLERS WILL DELIVER THE HOME W/ NEW CARPET IN DEN AT BUYERS REQUEST AND WILL WAX THE ORIGINAL OAK FLOORS ONCE ALL PERSONAL BELONGINGS ARE OUT. SELLER VERY FLEXIBLE ON ALL TERMS AND WILL LEAVE CREDIT IN ESCROW FOR CENTRAL A/C INSTALL." Translation – We're desperate for an offer, any offer.
Many people tell me that Arcadia is different in that people here aren't desperate to unload property because Arcadians didn't participate in any of that silly bubble mania. I'm repeatedly told that the people here are wealthy enough to not use option loans and/or 100% financing so the news headlines don't apply here. I'm also told that prices are "holding well" in the lovely peacock city. Riiiight.
Purchase Price $960,000
Purchase Date 12/01/2005
1st Loan $768,000
2nd Loan $192,000
Downpayment $0
Another property purchased during the height of the boom with 100% financing! These people couldn't even pony up the downpayment, but saw no problem taking out two loans to buy the house. The lenders aren't any better in their greed to make closing costs, origination fees and whatnot in letting this loan go through. No underwriting plus greedy people plus lax lending standards equals massive bubble mania.
It's been 27 months since the purchase and these owners want out. Actually, they wanted out over half a year ago after subprime woes reared its ugly head and the markets were crushed under the beginning of the credit crunch. Let's take a look at their listing price history.
10/29/07 $1,175,000
11/01/07 $1,145,000
11/05/07 $1,120,000
11/27/07 $1,100,000
01/31/08 $1,080,000
I think we all know where this is going. After being on the market for six months, it's clearly overpriced and headed for yet another price reduction. If they had reduced the price more drastically, it may have sold last summer instead of chasing down the market with these measly ~$20k reductions. Their realtor should have told them that. Oh wait, the realtor is the seller! "Seller is a Licensed Real Estate Agent" This is a classic case of realtors who drank too much of their own kool-aid and shows how knowledgeable they were about the market. This is their profession, yet they fell into the same debt-trap as many others.
You think they would know better. Apparently not.