As the housing correction continues, inventory will increase and more properties will stay on the market without a transaction. Deceiving realtors often take a listing off MLS and Redfin, only to re-list right away in order to reset the days-on-market counter. This particular listing has been re-listed so many times I've lost count, but the interesting thing is that the asking price remains changed throughout the entire process. Incredible.
Some realtors do it more than others, but apparently this one didn't bother. As a result of that, these properties have been on the market for over 400 days. And while there have been many price modifications, the current asking price hasn't changed all that much from their initial listings back in 2006.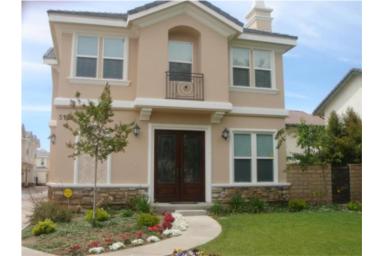 517 S. Fifth Ave #A & 513 S. Fifth Ave #C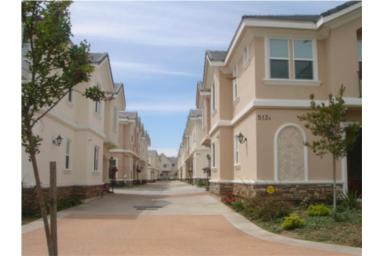 All three of these properties are 3bed/2.5baths with 2002 sq-ft so they are cookie-cutter clones of each other. The detached townhouse product was very popular with builders during the boom because it maximized profit on a relatively small parcel. At the same time, it offered a home that appealed to buyers because it doesn't share any walls with neighbors. These were a hit with many Asian buyers who weren't accustomed to having a yard anyways.
These builders/investors were late to the game and now they can't unload these properties. You would think after being on the market for well over a year, they would succumb to their senses and lower the price to get a sale. Apparently, they didn't get the memo and the asking price goes up and down and up and down. I don't understand their logic whatsoever.
519 #B is on its 16th asking price – currently at $769k.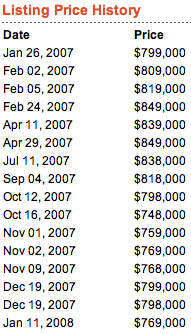 517 #A is on its 13th asking price – currently at $729k and 513 #C is on its 15th asking price – also for $729k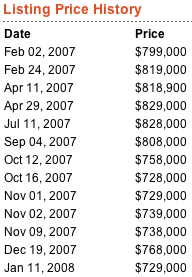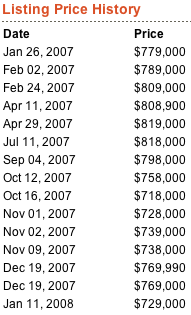 455 days on the market and the best they could come up with is $70k off the original listing price. Goodluck finding a buyer willing to pay $729k for townhome. With a $146k 20% downpayment, it's still $3,686/month at 6.5% fixed for 30 years. Add in the HOA fees, property taxes, maintenance and insurance and you're looking at $5,000 in monthly carrying costs for a stucco box on a postage stamp sized lot.
Thanks, but no thanks.