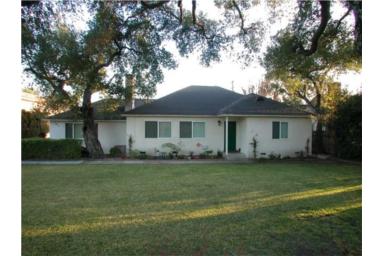 | | | | | |
| --- | --- | --- | --- | --- |
| Asking Price | $770,000 | ::: | Sq-ft | 1,735 |
| Purchased Price | $800,000 | ::: | Lot Size | 0.33 acres |
| Purchased Date | 08/23/2006 | ::: | Beds | 3 |
| Days on Redfin | 58 | ::: | Baths | 1.75 |
| $/Sq-ft | $444 | ::: | Year Built | 1947 |
| 20% Downpayment | $154,000 | ::: | Area | Santa Anita/fwy |
| Income Required | $192,500/yr | ::: | Type | SFR |
| Est. Payment* | $3,893/month | ::: | MLS# | A08027588 |
*Estimated monthly payment assume 20% down, 30-yr fixed @ 6.50%
Because of the previous community profiles, I've been profiling homes in the northern part of Arcadia for the past few weeks. During the weekend I had made up my mind to start moving south a bit to capture other parts of the city, but I couldn't pass up on this pre-foreclosure short sale I came across today.
This property is on a busy street bordering the Highland Oaks community and is just a few blocks away from the house up for auction TheArcadian posted the other day. Distressed properties are often the first to go under and this is no exception. Public records show a first loan of $640k and a secondary mortgage for the remaining $160k giving us another 100% financing deal gone wrong. At some point you start to wonder how many of these bad loans the lenders can absorb before they get thrown under the bus.
Sales History
05/17/1988 – $275,000
07/17/1998 – $295,000
06/09/2003 – $312,500
04/14/2006 – $770,000
08/23/2006 – $800,000 ($30K HELOC?)
12/23/2007 – $25,000
It's great when I can find a listing that has a full sales history going back 20+ years because it shows how a particular home fared in the past. To me, the first two numbers speak volumes. Over the course of 10 years this house appreciated a whopping 0.7%/yr. That is actually a loss when you account for the 3-4% annual inflation. That period started near the top of the previous cycle (late 80s) and ended around the bottom of the downturn (late 90s). This property actually recovered fairly well by 1998 to allow the owner to somewhat breakeven (minus property tax and maintenance of course).
The current asking price of $770,000 is a stated short sale to be approved by the lender. The owners are desperately trying to let go of the property before it goes into foreclosure. Given the previous sale price, the lenders might actually let this one slide – assuming they can find a knife-catcher. Since the market in 1998 was pre-bubble mania and prices were stable, let's use that as a baseline. If I apply the following annual appreciation rates, the property would be valued as listed below.
3%/yr $394,455
4%/yr $436,672
5%/yr $480,524
Personally I don't like the location of a property on such a busy street and wouldn't pay $770,000 for it. Given the large lot size, this listing isn't as outrageous as some others we have profiled, but it's still overpriced. Would you pay $770,000 to bail out this distressed homedebtor?