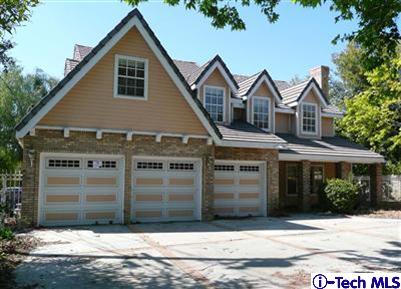 | | | | | |
| --- | --- | --- | --- | --- |
| Asking Price | $1,169,000 | ::: | Sq-ft | 4,227 |
| Purchased Price | $1,500,000 | ::: | Lot Size | 0.36 acres |
| Purchased Date | 07/15/2005 | ::: | Beds | 5 |
| Days on Redfin | 2 | ::: | Baths | 4 |
| $/Sq-ft | $277 | ::: | Year Built | 1989 |
| 20% Downpayment | $233,800 | ::: | Area | Santa Anita |
| Income Required | $292,250/yr | ::: | Type | SFR |
| Est. Payment* | $5,910/month | ::: | MLS# | 22108989 |
*Estimated monthly payment assume 20% down, 30-yr fixed @ 6.50%
Another day, another REO in Arcadia. Today's property is situated on the eastern edge of the city, close to Monrovia and is located in the back of a duplex. The previous owners bought in the summer of 2005 and lost a bundle. Public records show a first loan of $1,050,000 and a second of $149,800 on a $1.5MM purchase. That leaves a downpayment of just over $300k. The bursting of this bubble will undoubtedly hurt.
If they get their asking price, the bank with the big loan will not lose money, but the secondary mortgage lender will lose over $100k and the seller will lose their entire $300k downpayment. That's what happens when you buy an overpriced property at the height of the bubble.
Sales History
11/09/1988 $300,000
08/14/1990 $698,000
07/15/2005 $1,500,o00
03/21/2008 $1,023,000
The 1990 knife-catcher was able to sit out the previous downturn to find an even bigger knife-catcher 15 years later to buy the place for more than double what they paid. Less than 3 years after that, the bank took the property back to the tune of a $477,000 price reduction. That's -13.3%/yr…now that's a comp killer.
Its neighbor 2 houses north of this one has been sitting on the market for almost 5 months with multiple price reductions. Oddly enough, they recently increased the asking price. I don't understand the mentality, but it doesn't look like it's doing the trick.
Neighbor's Listing Price History
12/12/2007 $1,850,000
12/18/2007 $1,392,000 (-$458k)
02/29/2008 $940,000 (-$452k)
03/09/2008 $1,200,000 (+$260k)
It's been about 1.5 months since the price increase and it's still sitting on the market. I think we're due for another price change reduction soon. They were on the right track with the $458K + $452K = $910k reduction from December of 07 to February of 08, but took a turn for the worse when they pushed it back up to $1.2MM. Looks like these two properties are going to drag each other down along with the rest of the neighborhood comps.