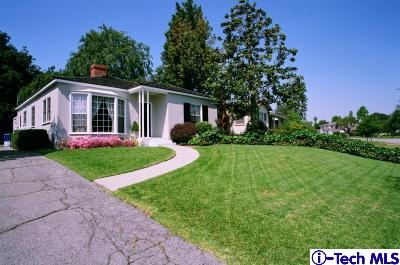 | | | | | |
| --- | --- | --- | --- | --- |
| Asking Price | $748,000 | ::: | Sq-ft | 1,256 |
| Purchased Price | $27,500 | ::: | Lot Size | 7,675 sq-ft |
| Purchased Date | 07/11/1969 | ::: | Beds | 2 |
| Days on Redfin | 2 | ::: | Baths | 1 |
| $/Sq-ft | $596 | ::: | Year Built | 1941 |
| 20% Downpayment | $149,600 | ::: | Area | Peacock Village |
| Income Required | $187,000/yr | ::: | Type | SFR |
| Est. Payment* | $3,782/month | ::: | MLS# | 22109279 |
*Estimated monthly payment assume 20% down, 30-yr fixed @ 6.50%
This listing caught my eye because it's a new price point in the beautiful Lower Rancho area also known as Peacock Village. This is the first decent looking single-family residence that I've seen under $750,000 in a long time. It's a nice house and has better curb appeal than the slightly bigger, but more expensive listing on 716 Joaquin Road.
Technically this is still very expensive. At $596 per square foot, it's more expensive than many other homes, but a SFR in a desirable community at sub-$750k will drag down other higher priced listings. It may or may not have much effect on the surrounding community since it's smaller than most other homes in Peacock Village, but it will definitely affect the many newer detached condos and PUDs that are listed at or above $750k.
I don't know about you, but I would rather buy a smaller SFR in a nice neighborhood than a newer, larger condo or townhome near Monrovia or on a large busy street. Listings like the cluster of condos across the way on Huntington (this, this, this & this), the two on 42 Genoa St (A & B), the three on El Dorado (139 #A, 141 A & B), and the set on 2nd Ave & 523 Third Ave A & B would feel increased pressure to lower their asking prices. Single family homes typically fare better than condos and attached townhomes in most markets, but probably more so in a down one such as this when buyers are looking for killer deals.
It may not be happening as quickly as many of you would like, but the market is moving. This new price point in Peacock Village will not only set a new comp in the neighborhood, but put a psychological barrier in the mind of buyers. This will most likely have a larger impact on the local market in the short term than the pending NODs, short sales and upcoming foreclosures.