Zip Codes: 91006, 91007

Current Market Listings as of May 3rd, 2008*
Properties for Sale: 218(-13)
Median Listing Price: $779,000 (-0.12%)
Weekly Foreclosure Update*
Properties in Foreclosure: 24 (+0)
Properties in Pre-Foreclosure: 66 (+2)
*+/- is compared to previous week's data.
For our regular property profile posts, SavedbyGrace has a section labeled "Income Required." It gives an estimate of how much a household should typically be earning in order to comfortably afford a mortgage. Simply put, the total home price should not be more than four times the home price.
This number establishes a base for affordability after factoring in a 20% down payment, taxes, insurance and other debt. During the last 4 years, buyers put aside these factors and just focused on the affordability of temporary monthly payments. You had no down, interest-only, 1 year teaser rates and other forms of short-term exotic financing. The problem was that these loan programs would eventually reset to the current market rate and the home buyer was no longer able to "afford" their higher payments.
Take a look at the following graph from Mr. Mortgage: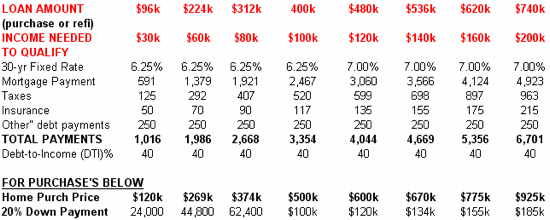 If you look on Redfin, over half the homes in Arcadia are listed for $700,000+. With the median household income estimated to be $73,992 (2006), there is a wide gap between home prices and actual affordability. You may argue that real estate in Arcadia has always carried a premium, but with a population of over 55,000 people, how many households have $150k+ for a downpayment and earn $200k a year?
Property and foreclosure numbers obtained from U.S. Census, ZipRealty, Trulia, Yahoo Real Estate and Foreclosure.com. Market listings and price data obtained from DataQuick News.