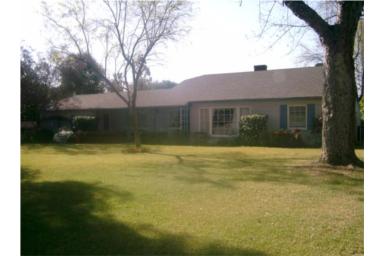 | | | | | |
| --- | --- | --- | --- | --- |
| Asking Price | $1,480,000 | ::: | Sq-ft | 1,757 |
| Purchased Price | $1,400,000 | ::: | Lot Size | 0.58 acres |
| Purchased Date | 03/31/2008 | ::: | Beds | 3 |
| Days on Redfin | 34 | ::: | Baths | 2 |
| $/Sq-ft | $842 | ::: | Year Built | 1949 |
| 20% Downpayment | $296,000 | ::: | Area | Santa Anita |
| Income Required | $370,0 00/yr | ::: | Type | SFR |
| Est. Payment* | $7,484/month | ::: | MLS# | A08047321 |
*Estimated monthly payment assume 20% down, 30-yr fixed @ 6.50%
I profiled this house a month ago when it was asking for an even more ridiculous $1,888,888. At the time, the lame realtor had posted a picture of the house across the street and after a month or so, it's finally be corrected. I wonder if she changed the picture after being mocked on this site? I also wonder how many realtors and their cronies know about Arcadia Housing Blog. They probably hate us, but I could care less.
From the recent sales history information listed on Redfin, it looks like the sellers did the unthinkable. When I looked at this property last month, the public records haven't been updated with the transaction on March 31st, 2008. That appears to be a $50,000 HELOC just 3 months after the January purchase at $1,350,000. The property was listed the day after the heloc was registered for a whopping $1,888,888 or $538,888 profit. Then came a wave of weird price adjustments from the confused seller.
Asking Price History
04/01/2008 $1,888,888
04/18/2008 $1,680,000 -$208,888
04/22/2008 $1,380,000 -$300,000
04/23,2008 $1,888,000 +$508,000
05/01/2008 $1,480,000 -$408,000
Can you say bipolar? Crikeys the sellers and their realtor were high on something. They started out fully intoxicated with kool-aid, but went into rehab a few weeks later with significant price reductions and appear to be going in the right direction. Then all of a sudden, they were back on the crack pipe and wiped out all the reductions except for a measly $888 from the original listing price. Then about a week after that, they came to realization (again) about the market state and dropped the price by $408,000.
That's $408,888 or 22% off the original listing price. Sounds like a lot, and it is a big number, but it's still way overpriced. It was purchased back in January of 2008 for $1.35MM and apparently was suppose to make some flipper's wild dream come true. It's 2008 and there are still people trying to flip homes – amazing. The sellers did put some downpayment on the house and I expect them to take a 100% loss on that. It may sell for the amount owed to the bank if they drop the price quickly, but if the sellers let it sit, it will fall below $1.1MM and the bank will end up taking a loss.
It sits on a big lot, but the house appears old and dated. There aren't any pictures of the inside so I assume it's in bad shape. It's also right next to the lovely drainage ditch. I must sound like a housing grinch that's out of her mind, but it's probably worth about half it's current asking price. Unfortunately, some knife-catcher might pick it up for around $1million in the next few months. Ridiculous!