333 Eldorado St. #A
Arcadia, CA 91006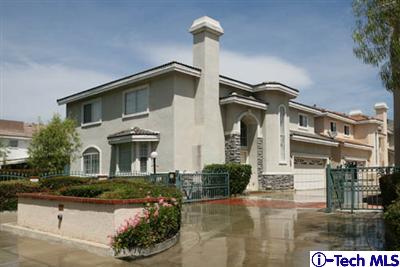 | | | | | |
| --- | --- | --- | --- | --- |
| Asking Price | $859,000 | ::: | Sq-ft | 2,578 |
| Purchased Price | $357,000 | ::: | Lot Size | Attached Condo |
| Purchased Date | 5/17/1999 | ::: | Beds | 3 |
| Days on Redfin | 2 | ::: | Baths | 2.75 |
| $/Sq-ft | $333 | ::: | Year Built | 1998 |
| 20% Downpayment | $171,800 | ::: | Area | East Arcadia |
| Income Required | $214,750 | ::: | Type | PUD/Townhome |
| Est. Payment* | $4,343/month | ::: | MLS# | 22110608 |
*Estimated monthly payment assume 20% down, 30-yr fixed @ 6.50%
This property is part of a cluster of 5 attached and detached PUDs. When we first saw its photo and location, our first thought was 'hey, theses types of homes were selling around $300k during the late 90s'. Sure enough, this property was first purchased in 1999 for $357,000. Applying the standard appreciation table, we get the following of what this home should be worth:
3% – $465,804 ($180 per sf)
4% – $508,122 ($197 per sf)
5% – $553,824 ($214 per sf)
Now before you argue that anything under $300 per sf is unrealistic, consider that a $88,178 price reduction will bring this property down to $299 per sf; just a mere 10.2% drop in value. In a market where the median sales price is expected to drop at least another 10% in the next year, I don't think anyone will even consider this property for $859,000. Personally, I think that is a conservative number and 20% over the next 12 months seems more realistic. Don't forget, this is a national housing crisis and as long as the bad news keeps circulating through the media, potential buyers will choose to stay on the sidelines.
If you look at the listing, this 5-unit cluster comes packaged with a $200 homeowner's association fee; bringing your total monthly payment to $4,543. As one reader pointed out yesterday, why would someone lock themselves into this financial commitment when they can rent an equivalent property just 2 blocks away for $2,950?
Return on Investment
The seller purchased the property for $357,000 and hopes to make a $522,000 profit after living in it for 9 years. That averages out to a 15% annual appreciation rate over that time period. As is the nature of a bubble (i.e. stocks or real estate), most of that appreciation actually occurred during the last 3 years.
Fortunately for this seller, they bought at a good time and despite where prices are going, they should survive the housing crisis fairly well. I say should because we know way too many people who used their home's equity as an ATM and have racked up hundreds of thousands of dollars in debt against the property. Let's hope this seller isn't one of them!