San Marino. A city known for its large lots, strict zoning laws, specific architectural design standards and the intent on keeping things the way they are. This is the city that people always compare South Pasadena to, but never the other way around. If you want to talk about old money, new money and foreign money, then look here first. As some of you pointed out earlier this week, Arcadia is for the leftover poor-rich folks.
And those concerned with education? San Marino Unified schools are consistently ranked among the top California public institutions.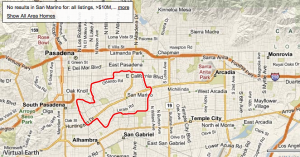 With a median sales price of $1,940,000 in May, you can expect to pay an arm and a leg to call this city your home. Because there are no apartments in San Marino, wannabe posers are not welcomed.
1365 S San Gabriel Blvd.
San Marino, CA 91108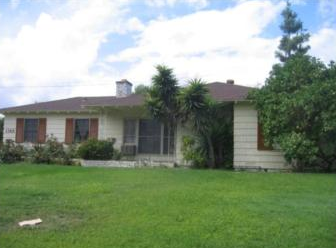 Price: $1,035,188 ($526 per sq. ft.)
Beds: 2
Baths: 1.5
Sq. Ft.: 1,968
Lot Size: 10,500 Sq. Ft.
A $1MM home in San Marino is on the "lower end" on the median so you should expect to make compromises. This home sits on the busy section of San Gabriel Blvd. just south of Huntington. This is more like North San Gabriel and appears to be very old and in major need of a gut+remodel.
Of course, we can conclude that this home may not even be worth $1,035,188. Just look at the listing price history:
Listing History

| | |
| --- | --- |
| Jan 24, 2008 | $1,098,888 |
| Feb 09, 2008 | $1,049,888 |
| Feb 23, 2008 | $1,050,000 |
| Mar 01, 2008 | $1,060,000 |
| Apr 07, 2008 | $1,081,888 |
| May 13, 2008 | $1,020,000 |
| Jun 11, 2008 | $1,030,000 |
| Jun 22, 2008 | $1,035,188 |
2225 S Los Robles Ave.
San Marino, CA 91108
Price: $1,049,000 ($589 per sq. ft.)
Beds: 3
Baths: 2
Sq. Ft.: 1,782
Lot Size: 8,967 Sq. Ft.
While the first property was bordering North San Gabriel, this one is close to North Alhambra. It's a very charming property built in 1956.
Based on the previous sales price, this home is no doubt overpriced. Some flipper bought it for $805,000 in February 2008 and now trying to make a quarter million dollar profit after 5 months. WTH.
There are a ton of million dollar properties in San Marino in similar condition as these two: old, sub-prime condition and overpriced. I promise that we will see much nicer properties once I start comparing $2MM+ homes!