Today's homeowner is left holding the bag and desperately needs to sell the it before his 20% downpayment is gone. No pictures have been provided but the aerial photo is all we need to see…
344 W Foothill Blvd.
Arcadia, CA 91006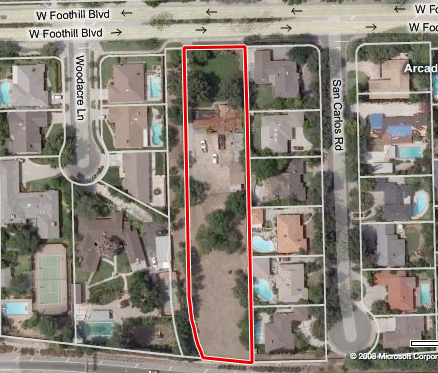 Price: $1,775,000 ($685.sf)
Beds: 3
Baths: 3.25
Sq. Ft.: 2,590
Lot Size: 1.14 Acres
At first glance, this property seems like a decent deal. Although the home itself is only 2,590sf, it has been completely renovated AND you get a 1.14acre lot. Think of the possibilities (i.e. 4+ McMansions).
Of course, we already know that anything too good to be true… usually is!
[Click below to see the property's incredible location.]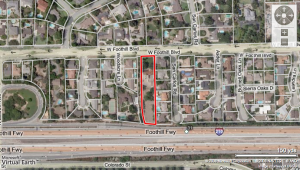 Wow. It sure has one heck of a view (of the 210fwy). On top of that, it is buried between 2 cul-de-sacs so the owner has no room left to pave a street through it. There goes any plans of breaking this property up into 6 smaller lots.
I'm certain the owner had grand dreams of making a killing on this home when he bought it in 2005:
Sales History
Jun 24, 1992 $620,000
Jul 12, 2005 $1,050,000
Sep 15, 2005 $1,550,000 <– WTH
Looks like flipper #1 knew he had a dud in his hands and immediately sold it to flipper #2 for a $500,000 profit after 2 months. $100,000+ in renovations and 3 years later, flipper #2 is trying to break even by listing the home for $1,775,000 ($100k for remodel & $100k for commissions).
$1.775MM to live next to the freeway? I'll pass.
Knowing all this, I'd have to say this seller is screwed and his $310,000 downpayment will get eaten up significantly by the time the home sells.