2222 S. 2nd Ave.
Arcadia, CA 91006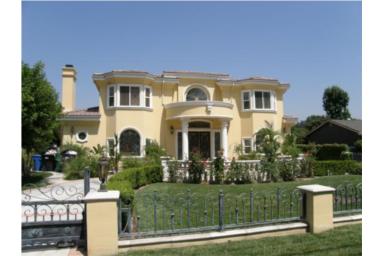 Price: $2,888,000 ($414/sf)
Beds: 5
Baths: 5.5
Sq. Ft.: 6,981(!)
Lot Size: 0.38 Acres
Today's new listing is a 6,981sf McMansion sprawled across a 1/3 acre piece of land. The description calls it a "Gorgeous Luxury Custom Built Estate." Of course, we all know that this "custom home" was built using a mid-90's floor plan and originally designed by San Gabriel Valley architects. Don't believe me? Walk into a dozen McMansions built between 1995-1999 and you will see the same plans used over and over.
There are two things that are rediculous about this property: 1) The nearly 7,000sf living space and 2) a asking price of $2.8MM+. Do you think adding the '888' will increase this seller's luck in finding a rich knifecatcher?
Cost to build this McMansion @ $150/sf = $1,047,150
Cost of property purchased in 2003 = $636,000

Total cost = $1,683,150

Current asking price: $2,888,000 = $1,204,850 profit (!)
What does not make sense is why someone would spend nearly $3MM to purchase an overbuilt McMansion when they could build the same thing for much much less. There are several land lots in Arcadia currently asking for ~$1MM. Assuming you spent another $1MM building a custom home, total savings would be over $800k!