41 E Winnie Way
Arcadia, CA 91006
Beds: 3
Baths: 1.75
Sq. Ft.: 1,557
Lot Size: 8,100 Sq. Ft.
This is a fairly decent starter home built in 1956. While it lacks the charm or extravagance of newer properties, you get adequate living area, privacy and some upgraded features. Unfortunately, the $850,000 price tag puts this home way beyond the classification of "entry" or "starter".
First, the seller. They bought in 2003 for $430,000 and put a sizable 42% down payment. Regardless of where the money came from, it was very prudent borrowing. Assuming a 30-year mortgage, their monthly payment should be around $1,500/month. More or less depending on the interest rate.
A $1,500 mortgage on a this property is very reasonable due to the $180,000 down payment. BUT take that $180k and apply it to the current listing price and we have a mortgage of $4,297 per month; not including taxes, insurance, ect. Would you spend $4,300+ a month to own this home?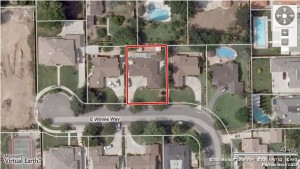 Given that a property like this will go for $300/sf or less in the near future, the following valuations are still too high:
After 5 years of ownership.

3%    $498,488    ($320/sf)
4%    $523,161    ($336/sf)
5%    $548,801    ($352/sf)
6%    $575,437    ($370/sf)
7%    $603,097    ($387/sf)

$300/sf = $467,100

Current asking price: $850,000 WTF
If I was the seller, I would start slashing the listing price ASAP because once the Summer season is over, we're looking at a even bleaker housing market the coming Fall and Winter.