The following property is profiled by the request of one of our readers. It seems like many people are attracted to these PUD/townhomes. If you're not into yard maintenance, driveways or require large lots to entertain with, then I suppose this is the perfect property for you!
901 Holly Ave.
Arcadia, CA 91007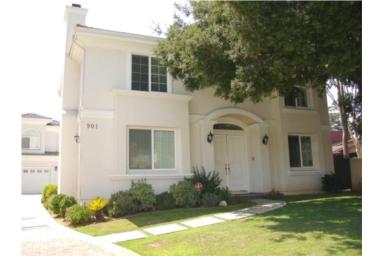 Price: $888,000 ($334/sf)
Beds: 3
Baths: 3.75
Sq. Ft.: 2,660
Lot Size: 10,408 Sq. Ft.
Property Type: Attached, PUD
Excellent location, walk to Arcadia Golf Course and Park, custom built PUD, like new condition, many upgrades and features…
I can't argue about the location of this PUD. It's a stone's throw away from the golf course, Santa Anita Race Track, Arboretum and Westfield Shopping Mall. In fact, this is probably one of the closest properties to all 4 attractions!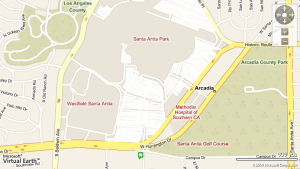 Exit, make a left and you're on Huntington Dr. Can someone tell me whether this is a high traffic intersection?
As far as valuation goes, my first comment would be that PUDs like this one used to go for ~$400k+ in early 2000. Although I know much has changed since then, it doesn't change the fact that this class of property was built to be more affordable than single family homes and still generate a sizable profit for developers.
Today's valuation will be based on 2 properties located fairly close to this one or at least within proximity to all the same attractions.
453 Fairview Ave #D.
Arcadia, CA 91007
Currently listing for $669,000 ($284/sf)
– 3 bed, 3 bath and 2,356sf
815 W Duarte Rd.
Arcadia, CA 91007
Sold on 7/31/08 for $680,000 ($230/sf)
– 6(?) beds, 3 baths and 2,962sf
So just based on these 2 comps, $334/sf for today's PUD is asking too much. If this was a small detached home on a 7,000sf lot then maybe there would be a case for the $888,000 asking price.
Since this property is new(er) and appears to be well maintained, here's how I would value it:
$260sf – $691,600
$270sf – $718,200
$280sf – $744,800
Stray a little farther West on Huntington Dr. and you will start to see PUDs currently listing for around $680,000 – $750,000. That is far below the today's "lucky" $888,000 asking price.