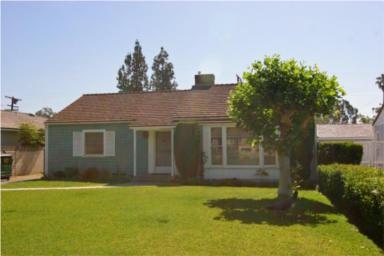 | | | | | |
| --- | --- | --- | --- | --- |
| Asking Price | $750,000 | ::: | Sq-ft | 1,438 |
| Purchased Price | ? | ::: | Lot Size | 9,000 sf |
| Purchased Date | ? | ::: | Beds | 3 |
| Days on Redfin | 2 | ::: | Baths | 2 |
| $/Sq-ft | $522 | ::: | Year Built | 1941 |
| 20% Downpayment | $150,000 | ::: | Area | Peacock Village |
| Income Required | $187,500 | ::: | Type | SFR |
| Est. Payment* | $3,792/month | ::: | MLS# | A08073132 |
*Estimated monthly payment assume 20% down, 30-yr fixed @ 6.50%
"This is located in the desirable Santa Anita Village neighboorhood. Living Room features fireplace and crown moldings, dining area, central air/heat, 2 car detached garage with many possibilites."
Yesterday I wrote about comp killers dragging the entire neighborhood down with it and today we have a prime good example of that. At first glance, this property isn't anything special. It's old, dated and could use a serious home makeover so surely you'd agree that it's not worth the asking price of $750k. That being said, at 1438 sq-ft it's a comfortable 3 bed, 2 bath in a desirable neighborhood so is it priced correctly?
Let's take a look at the neighborhood comps.
Candidate #1 – 812 Victoria Dr.
$748,000 3bed/1bath 1,256 sqft on 7,675 sqft lot $596/sqft
This house is just around the corner and is asking for $2,000 less, but you lose 200 sqft of living space and 1,325 sqft of lot. On top of that, it only has 1 bathroom — a big no no in today's market.
Candidate #2 – 716 Joaquin Rd.
$758,000 2bed/1.75bath 1,550 sqft on 9,000 sqft lot $489/sqft
This house is a few steps away and asking for $8,000 more in exchange for 112 more sqft of living space, the same sized lot and a (probably dated) bathtub. Personally, I wouldn't pay $8k more for112 sqft. It was last sold in 2000 for just $343k.
Candidate #3 – 707 Joaquin Rd.
$829,900 2bed/1.75bath 1,513 sqft on 8,625 sqft lot $549/sqft
This distressed seller is so confused he/she increased the asking price from $699k (April 2008) to $829,900 (May 2008). For $79,900 more than today's featured property, you get 75 sqft more living space, a smaller yard and lots of fruit trees. The notice of default must have knocked the sense out of them because this property sold for just $365k in 2001.
Candidate #4 – 860 Coronado Dr.
$868,000 3bed/1bath 1,974 sqft on what appears to be roughly the same size lot $440/sqft
This for-sale-by-owner property wants $118,000 more for 536 more sqft of living space. That's $220/sqft for something that's old, not new construction. Crikeys – you also lose a bathroom.
Sold 1 month ago on April 16, 2008 – 839 Palo Alto Dr.
$750,000 2bed/2bath 1,645 sqft on a similar sized lot with a pool
This property sold last month for the same $750,000 the sellers are asking for today. That's probably how they came up with the asking price. You get 200 more sqft, but lose the extra bedroom so it's about equivalent.
Based on the above information, it appears that 416 S. Old Ranch Road will depress the asking prices of all four neighboring candidates in the lower east Peacock area. When you're the lone ranger for sale, it may be possible to deceive a potential buyer into thinking your property is worth the asking price. When you have another comparable sale within a mile from your property going for less, then you have a serious problem.
In addition, the recent sale on Palo Alto Dr. places today's property at a reasonable price. Of course, that doesn't mean it won't depress further in the coming months. If the comparables sold in the early 2000s for around $350k, at 3%, 4% and 5% annual appreciation, it would be worth $443k, $479k and $517k, respectively.